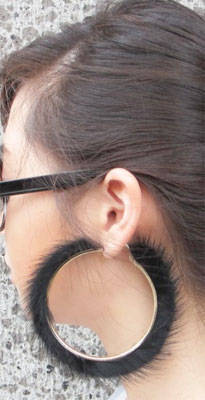 We love the quirkiness of Thirsty Thought's Kryz Uy's furry hoop earrings. She made it the focal point of her simple outfit that consists of a T-shirt dress from Felicee, sunnies from Topshop, Pedro heels, and assorted accessories from WAGW and SM Accessories.

Add a little furry happiness to your look and try making your own furry hoop earrings! Try to find old hoop earrings stashed away in your jewelry box and buy furry string or embellishment from fabric stores like Carolina's. Use a glue gun or super glue to affix the furry string onto the loop earrings. Just apply a small amount of glue so it won't look messy and unsightly. Experiment and try to mix different colors of fur together for a funkier and totally psychedelic look.

Have you ever tried making your own accessories? If you have, share your creations with us!
ADVERTISEMENT - CONTINUE READING BELOW
ADVERTISEMENT - CONTINUE READING BELOW