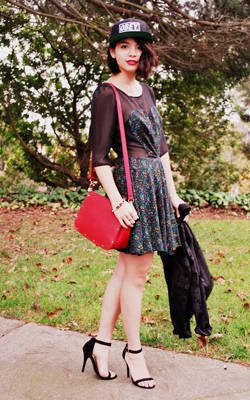 Mixing feminine and masculine pieces in an outfit can be quite the challenge but Kathleen Murillo of the blog, Inspirafashion, shows us that it isn't so hard to do after all! She pairs a boyish snapback hat with a semi-sheer, floral dress, which we think is totally ingenius. The blogger injected more girly pieces with a fiery red bag and black, ankle strap heels, and a velvet jacket.
ADVERTISEMENT - CONTINUE READING BELOW
Balancing out girly and menswear items may seem like a big risk but if you give it a try, you'll see that it's actually really fun and easy. Just like Kathleen's outfit, it's all about pieces that complement each other whether it's the material or color. Try wearing your black and white oxfords with an oversized blazer and white bondage dress. You can also pair structured tuxedo pants with a floral, flowy top for contrast. Remember though to stick to either one masculine or one feminine piece to contrast the other for a simple yet chic ensemble!