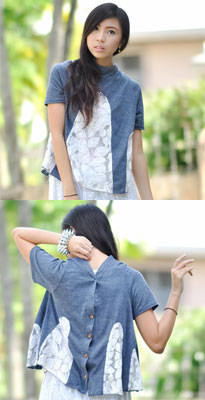 By Details' Gillian Uang wanted to try the knitt top and maxi dress ensemble but the weather in Cebu City makes it impossible to do so. When she saw this lace cardigan in her sister's closet, she dared to go bold and wore it backwards. She was a little hesitant at first but went for it anyway since she wanted to try something different. She wore the cardigan with a white maxi dress skirt from Detail byDetails, Forever 21 glittered wedges, and a spiked bangle.

Trying a new trick with your clothes can make or break your outfit. If you plan to do something out of the ordinary like what Gillian did, make sure it fits you well. It might look weird the first time, but keep experimenting with different combinations and who knows? You might end up making your own trend once you've discovered the perfect formula.

Try it out and let us know your winning combos.
ADVERTISEMENT - CONTINUE READING BELOW