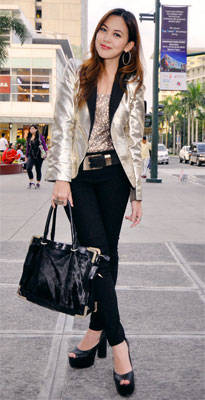 Freelance designer and fashion blogger Danika Navarro attended the Unscripted book launch in this sophisticated black and gold look. She wore a Rio metallic gold blazer, sequinned top, gold buckled belt, black pants, gold accessories, and black peeptoe pumps all from Nava.

Don't be afraid to sparkle! When wearing striking clothing items like Danika's gold blazer and top, make sure to pair them with subtle colors like her black pants and pumps so you won't look OTT. Mix and match accordingly and make sure that your sparkly items belong in the same color family. For sequinned tops, you can eliminate wearing necklaces since your top already adds enough glitz to your look. Accessorize with bangles and rings to tie your look together. Just remember that less is more.
ADVERTISEMENT - CONTINUE READING BELOW
What sparkly items do you have in your closet?