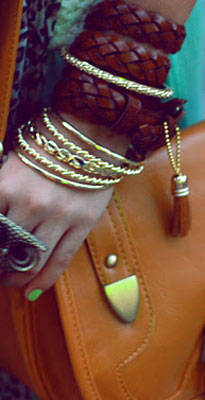 The Walking Recessionista's Cheyser Pedregosa spiced things up by using her braided belt as a wraparound bracelet. It became the statement piece of her maxi dress, knitted top, scarf, and sandals outfit from SOUL Lifestyle.

This is so easy to do! Wrap your braided belt around your wrist and secure the buckle. If you want to add more details to the belt, clip on charms to the braids and position them where the charms will be seen. This is a nice gift idea for your barkada this Christmas. (For a personal touch, make a handwritten note with instructions on how to use the belt as a bracelet.) If you want something simpler, check out these bracelets and bangles you can give to your friends as an alternative.

What else can you do with your braided belt? Share your ideas in the comments below.
ADVERTISEMENT - CONTINUE READING BELOW
ADVERTISEMENT - CONTINUE READING BELOW