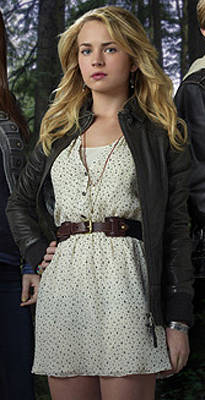 Brittany Robertson, who plays the role of Cassie Blake in The Secret Circle, puts together a patterned chiffon dress and a leather jacket for her new show. The structure of her look, mixing soft fabric and leather wear, creates a girly look with a hint of toughness. It's almost as if she's saying, "I'm a girl, but don't mess with me!" She finished off with a brown belt to cinch her waist, a long necklace, and grungy leather boots.

Try this combo by matching a chiffon or sheer button down top and leather pants for an outfit that exudes rocker chic. You can also copy this look by wearing a dainty printed dress and match it with a leather jacket or vest. If you're not comfortable with wearing boots, you can opt to wear black flats instead.
ADVERTISEMENT - CONTINUE READING BELOW
Would you try this look? Show us and upload a photo on Snaps!