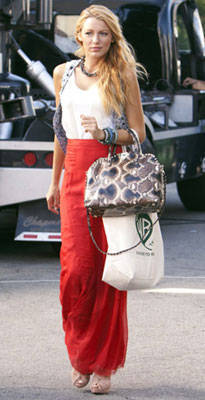 We're used to seeing Gossip Girl's Serena van der Woodsen (Blake Lively) in micro minis, super low necklines, and body-hugging clothes. In the fifth season premiere of Gossip Girl, we saw a different side of her. Busy working as an assistant for a film company in LA, she throws on something comfortable but still stylish for the day. Seeing Serena covered up in a maxi skirt, a simple tank top is not her typical look but the embellished vest is what makes it still very "S."

Copying her look is pretty easy. Just be mindful of the little details like the length of the skirt or the fit of the top. Make sure the clothes fit your body frame perfectly so you won't look sloppy. For this outfit, Serena's statement pieces are her vest (go for a neutral color with studs or beads) and snakeskin purse. The look is simple and the added sparkle just gives this outfit enough glamour to keep it from looking boring.

What do you love about Serena's look? Let us know!
ADVERTISEMENT - CONTINUE READING BELOW
ADVERTISEMENT - CONTINUE READING BELOW