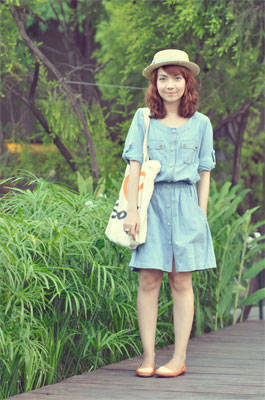 Bestie Konisis of The Capricious Club looking cool and casual in her thrifted dress, second hand flats, Payless tote, and SM boater hat. She finishes off with the cutest bunny ring from Gurly Glam.
Want to cop her look but don't have the same luck in finding chambray dresses in a thrift store? Make it work with a denim top and denim skirt (works better with a skirt that has a gartered waist). Tuck your top and pull it out to replicate the dress she's wearing. You can even cinch your waist with a belt to hide where your top and skirt meet.
ADVERTISEMENT - CONTINUE READING BELOW
How would you accessorize your chambray outfit? Leave a comment below!