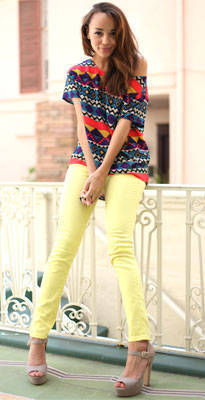 Revenge's Ashley Madekwe wrote on her blog that she may have blinded people with her flashy outfit composed of a neon tribal top from Whitney Eve and lemon-colored denims from Urban Outfitters. She kept the look balanced with a neutral touch from her Steve Madden heels.
If you're planning to wear an outfit similar to Ashley's, see to it that each element of the look goes together. Combining different trends in one look can be a little tricky so make sure that they complement each other. Make the print the focal point of your outfit and pair a solid pastel-colored piece that's in the same color family of thetribal print. Minimal accessories is the key to pull the look together.
ADVERTISEMENT - CONTINUE READING BELOW
What other trends would you like to combine in one look? Share them with us in the comments below.
ADVERTISEMENT - CONTINUE READING BELOW