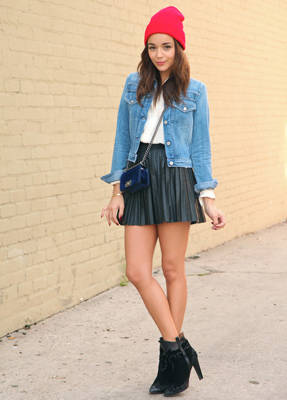 Ashley Madekwe, the Revenge star and Ring My Bell blogger, is known for her simple yet totally chic street looks and this outfit in particular is just too adorable! She mixed a classic denim jacket with a pleated leather skirt and made it look effortless. Ashley kept it simple with the accessories—a red beanie, blue shoulder bag, and a pair of heeled ankle booties.
ADVERTISEMENT - CONTINUE READING BELOW
Want to come up with a look similar to Ashley's? The key is finding the right balance between two standout materials—denim and leather. If one of the two pieces has an interesting print or design, make sure to go with a more classic item for the other one. A good example is by pairing a polka-dot chambray top with simple leather shorts. Also, try to limit your accessories to pieces that will not clash or overpower your clothes. Choose a colorful bandana or a statement necklace and don't opt for more items to pile on. Lastly, make sure to walk out the door with true confidence for an effortless, street-chic look!