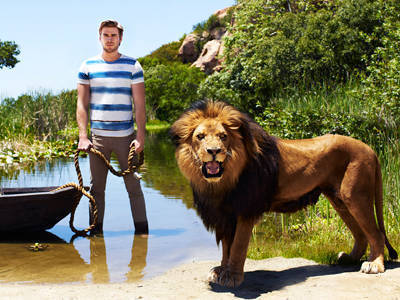 During Liam's recent visit to the Philippines as Bench global ambassador, the actor spoke about the brand and his idea of style. Here's what he told us:
Describe your style.
"Basically for me, style is what you're comfortable in and your own identity. Style says a big part of who you are and my style is simple and casual."
Does someone help you dress up for red carpet events?
"When it comes to red carpet stuff, someone does help me dress up. It's not really something I know too much about since I'm in jeans and flip flops most of the time."
How was your campaign shoot for Bench?
"The shoot was great. The clothes were great! My style and fashion is simple, less is more kind of idea so it was fun shooting with different outfits. And, I got to shoot half a day with a lion and it was pretty incredible!"
ADVERTISEMENT - CONTINUE READING BELOW
What is your relationship like with the brand?
"I encountered Bench a year ago and I think it suits me because my style is very simple and casual just like the brand. Sometimes though, the clothes also lets me try out different looks, which I like."