Just last night, Katy Perry rocked the Philippine Arena as her #PrismaticWorldTour made its way here. From the elaborate stage, amazing light shows, ultra cool graphics, energetic dancers, mesmerizing costumes, and her awesome voice and charisma–Katy definitely took us to another world and entertained the lights out of everyone in attendance. And in true Katy fashion, the themes to each performance and all her costume changes (hair changes a.k.a. wigs included) were a must and one of the highlights of the evenining. Which is why we just had to make sure we documented all her cute outfits throughout the night, even the smallest of changes and additions. So go ahead and check them out for yourself below and let us know your own tally of all her looks!
She kicked off the night with "Roar" in an intergallactic and metallic tiger onesie with thigh-high boots to match and super cool light accessories in her hair.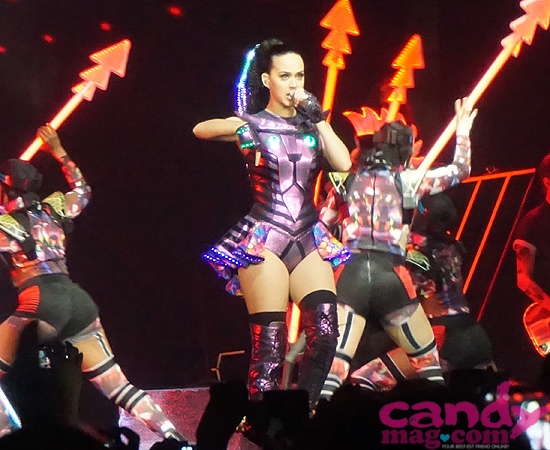 ADVERTISEMENT - CONTINUE READING BELOW
Then she switched things up for "Dark Horse" in a Cleopatra-inspired lilac outfit completely embellished in gold details, a headpiece, and lace-up boots.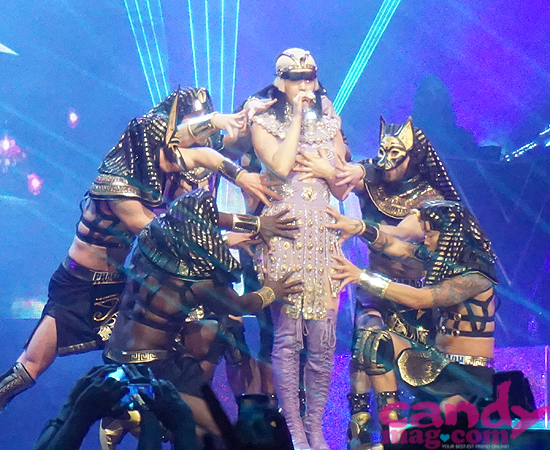 Then later switched her skirt to a gold wrap one with the words "Pharest Of Them All" written on her belt while showing off the cool one piece she was wearing.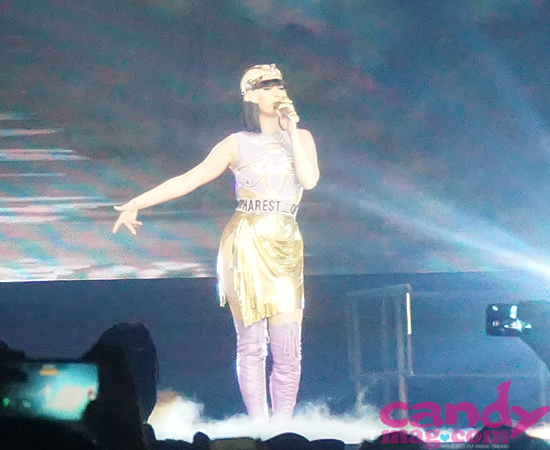 Then right after the skirt came off too and revealed her Cleopatra-inspired gold and lilac one-piece as well we her super fit body.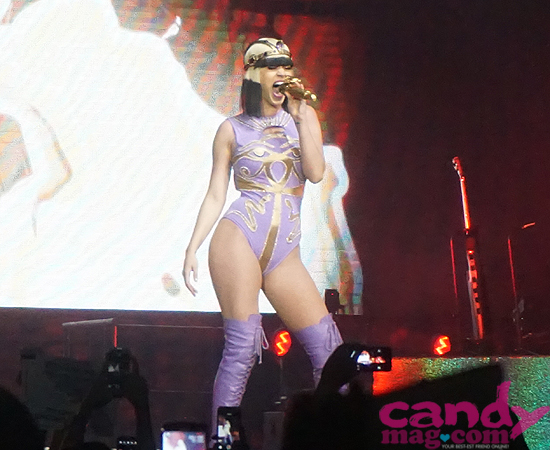 Katy then changed into a pink cat suit with matching pink ears and pink booties for "Hot and Cold." We're loving all the sequins and bling details all over.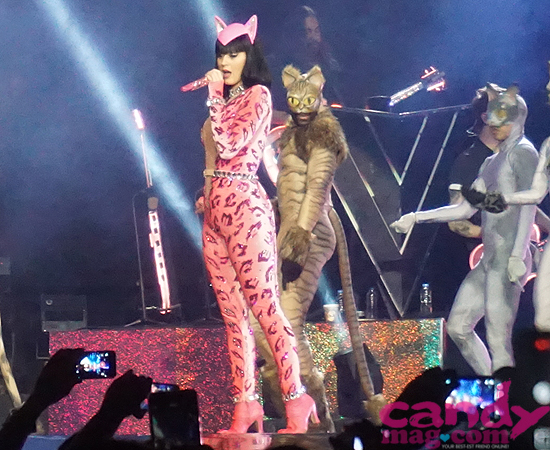 ADVERTISEMENT - CONTINUE READING BELOW
Katy had fun with a quick fashion show as she sported this fish bone cage dress over her cat suit. How cute does she look?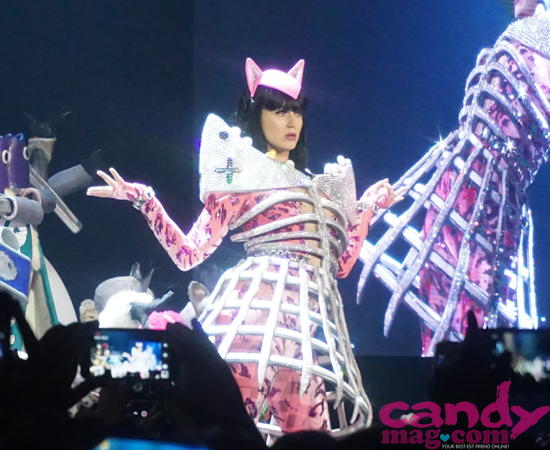 She slowed things down a little in this sparkly and shiny sunflower gown with her matching rainbow-colored hair as she sang her hits like "Thinking of You" and "The One That Got Away."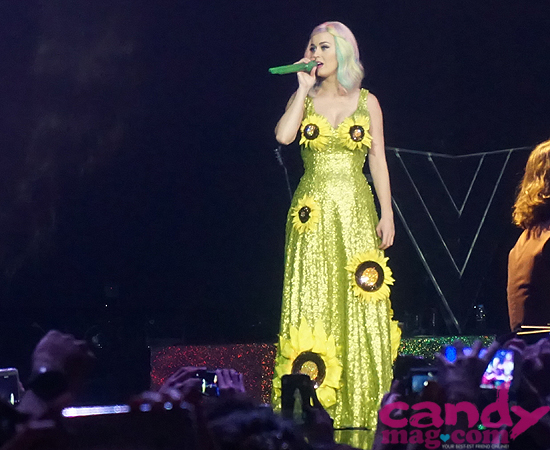 Her bejewelled sunflower guitar has got to be one of her best accessories yet.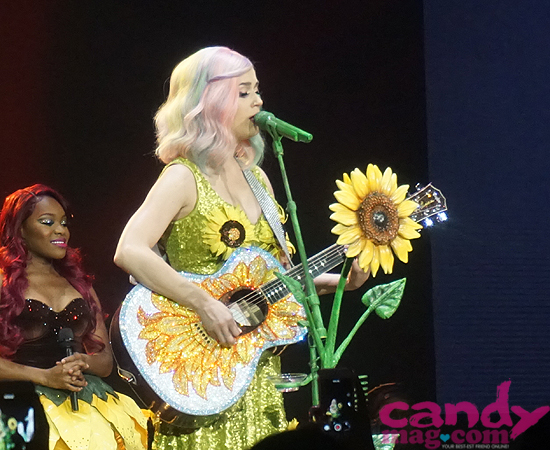 For "California Girls" and "Teenage Dream," Katy went with a neon and shiny matching crop top and skirt ensemble which looked extra cute with her green wig. We love that she went with neon high socks and heeled mary janes for her footwear.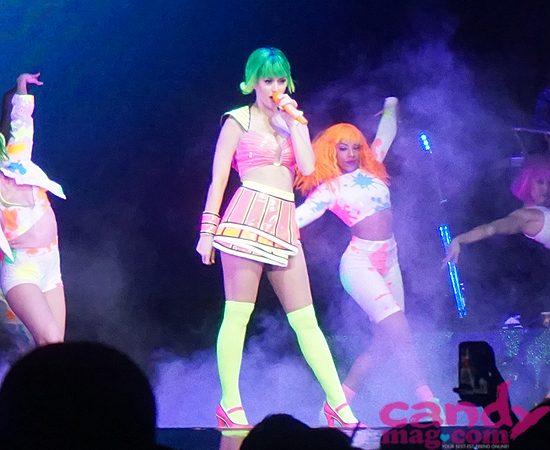 ADVERTISEMENT - CONTINUE READING BELOW
The night ended with Katy singing her hit song "Firework" as she made her way one last time all over the stage in this super colorful jumpsuit with a ball gown belt andmatching gloves.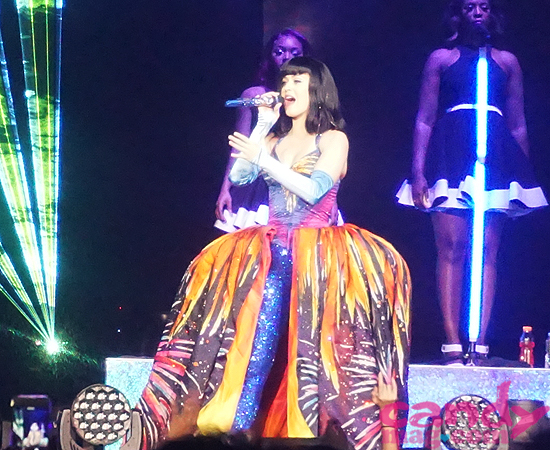 And did you guys notice that the color of her microphone changed with every outfit change as well? The attention to detail definitely makes Katy Perry's concerts a must-watch and a must-experience show.
Which look is your fave? Just tweet us @candymagdotcom or leave a comment below. We love hearing from YOU!