Name: Kathleen Murillo
Age: 20
School: University of California, Berkeley
Hometown: Hercules, CA
Zooey Deschanel meets Mary Kate Olsen. I feel my style is sweet and feminine yet edgy and bohemian. My style can also be very eclectic and changing as I find so many inspirations from different girls all over the world, especially the readers of my blog :).
Shopping time. For mainstream stores, I shop at Urban Outfitters, H&M, American Apparel, and Forever 21. For online stores, I love Threadsence, Anarchy Street, ASOS, and even ebay blog shop stores like the one ran by the blogger Fancytreehouse.
Fashion gurus. It's at a crossroads between Erin Fetherston and Zac Posen, again it's that sweet vs. edgy style I love. Erin Fetherston's designs are light, airy, and beautiful while Zac Posen's is classy, structured, and sophisticated.
Cat in the hat. Nowadays, I've been trying to incorporate more hats to my outfit, and upon thrift-shopping I came across this black straw boater hat. It has been something that has always been a part of my outfit currently. But, for a while, I've always made it a staple to not only wear fashion items but also makeup—I always wear my burgundy plum MAC lipliner called Nightmoth, as lipstick and put lipgloss over it as well for shine. :)
Inspired. I always get my inspiration from everyday girls all over the world, especially through Chictopia and the blogosphere, or even girls walking down the street as I walk across campus. I feel they are truly inspirational as whenever I find a certain piece from their outfit to look intriguing, I try to incorporate to my next look I wear out.
Icon of choice. My favorite style icon would be Mary Kate Olsen. She effortlessly creates beautiful looks. It looks like she just heads out the door in a hurry, grabs things to throw on, and makes a gorgeous outfit in a few seconds. I love her grungy bohemian edgy style. She makes it so wearable and amazing to look at and take inspiration from!
Online imfluence. Chictopia is the main place I found influenced my style since the beginning of getting into blogging. The girls there are so supportive and gave such great feedback on my outfit posts. Also, my readers of my blog really influence my style as I take their comments to heart even if it would be any criticism.
Pastels. Right now I'm loving light, soft, neutral colors such as mint green, coral, light pinks, tans, and light grays.
No-no! I'm not a big fan of fish-net tights, so probably that. Although I did wear it one time during halloween in Middle School haha.
The basics. Skirts, whether it be long, short, extra short, they really can never go out of style as they're so versatile. I feel scarves can never go out of style because they can add that extra flare to an outfit as well as keep you warm. Stilettos or heels is a must to every closet, as they are also important for business or professional events.
Let's go back to the '80s! I would LOVE to see more sequin dresses from the '80s! My mom wore a short blue sequin dress to her prom and I adored how she styled it with her big '80s hair haha. And who doesn't love sparkle?!
Vintage hand-me-downs. I own a vintage floral blouse from my mom, which is sometime I always love wearing along with all her blazers from the '80s with big shoulder pads.
ADVERTISEMENT - CONTINUE READING BELOW
Know other stylish girls? Post their links on the comment box below or post in TeenTalk.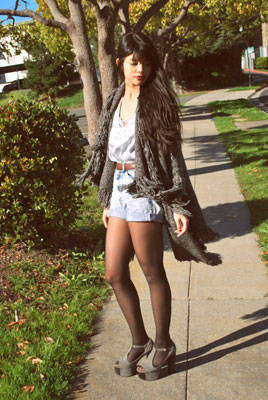 ADVERTISEMENT - CONTINUE READING BELOW