Name: Isabela Secillano
Age: 16
School: STSN
Hometown: Quezon City
Uncategorized style. I am young so I guess my curiosity is in a whole different level and I just tend to try a lot of different styles that I see from different people, famous or not.
Shopping faves. I am not brand conscious but I do like Penshoppe, Jellybean, Artwork, Tomato and Forever 21. I also shop at Landmark and SM Dept stores.
Style icons. Rachel Zoe, Jessica Stam, Mary Kate and Ashley Olsen, Taylor Swift, Selena Gomez, Zooey Deschanel, and Anne Hathaway. I absolutely adore the style of the ladies from Gossip Girl. I die for their wardrobe! In the local scene, I've always looked up to the styles of Anne Curtis, Camille Co, Kryz Uy, and sisters, Laureen and Liz Uy.
Influenced. My style icons, my history in modeling, international and local designers, the Internet, my mom, my tita, and innovations of society.
Rainbow closet. My closet is very colorful! But I stick to neutrals nowadays when shopping. I also have prints. Animal prints, floral prints, stripes, spots, name it and it's in my closet. I also have this silver sequined-dress from Zara that was inspired by Taylor Swift.
Fave accessory. I don't have any particular accessory that I wear all the time but if I'm feeling all girly and glamorous, I would probably wear a cocktail ring. My mom started buying a lot of them so it pretty much turned into a collection of mine. If it's just a regular day, I'd probably go for a laidback style and I would wear ballers. I also have lots of them, too.
Never ever! The one thing I'll never be caught wearing is probably a maong/jeans skirt . I don't know, something always doesn't feel right when I wear those things.
Trend rebirth. The 70s style seems to be having a comeback and it's nice because a lot of designers modify their style in that decade.
Best bargain buy. My mom taught me to be practical so I think all of my clothes are the best bargain buys. I have party dresses that cost less than a thousand pesos and the best one is, that sequined dress from Zara that I got on sale for only P800.
Vintage collection. I have a lot, like this scarf I got from my mom. She said she bought that scarf when she was in college. My mom also owned a lot of belts that came in handy when she was still working back then.
ADVERTISEMENT - CONTINUE READING BELOW
Do you want to be the next It Girl on The Web? Fill out the form here.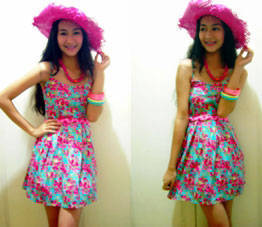 ADVERTISEMENT - CONTINUE READING BELOW