Fashion
Yuki Tansengco Shares Her Secrets on How She Balances Blogging and Business
Plus, how she incorporated her love for anything eco-friendly in her biz.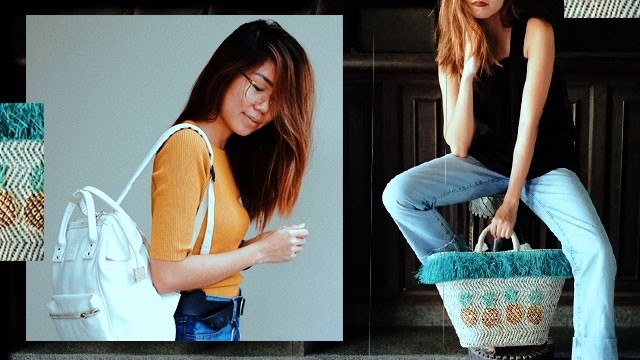 IMAGE Yuki Tansengco | https://www.instagram.com/yukitansengco/, Shop Cat | https://www.instagram.com/shopstylecat/ ART Clare Magno
You may know Yuki Tansengco as a style blogger, but it's time to see a different side of Yuki as a young entrepreneur with a heart. Read on and get to know Shop Style Cat as Yuki shares with us her secrets to starting up a biz, her inspirations, and why it's important to go local.
How it started. "My blog, The Style Cat blog has opened up so much opportunities for me and has now turned into a platform of style and travel inspiration for millennials. Merging my love for style, travel and sustainable fashion, I created Style Cat, an eco-ethical line of locally made resort/wicker bags for equally adventurous curious cats."
ADVERTISEMENT - CONTINUE READING BELOW
Why Shop Style Cat? "Ever since a Manila Bay school field trip back in high school, we collected so much trash that I made a mental note to do little contributions to be more environmental friendly. Come college, I started my accessory line called Yuki Makes Things made from upcycled (recycling, but nicer) material such as soda caps, scrap fabric and started selling to my blockmates in DLSU. In college and obsessed with dressing up, I started a fashion blog, documenting my daily outfits and the accessories I was making. One thing my readers love about my style is I love wearing ukay-ukay/second hand pieces. Again, I still find ways to contribute to being "eco-friendly" and try to avoid fast fashion (too trendy wear-and-tear pieces just end up in a landfill) pieces, which ultimately inspired me to start my own line."
"My first ever collection, Style Cat Resort: Take Me To Purradise is inspired and named after by MUST-SEE destinations: Aruba (southern Caribbean), Calaguas (in the Philippines), Santhiya (in Thailand), Port Douglas (in Australia) and Uluwatu (in Bali.) I love the idea of using locally sourced material such as traffia, abaca, banukan and seeing products made by our incredibly talented artisans. So you get stylish products, use sustainable materials that won't be clogging up a landfill nearby and empower our local communities by supporting proudly Pinoy products, too."
ADVERTISEMENT - CONTINUE READING BELOW
Aesthetic. "The Style Cat girl is bold and never shy. She is a curious cat always on the hunt for new styles and new adventures. She is both a city and island girl just like the versatility of the bags."
ADVERTISEMENT - CONTINUE READING BELOW
Young entrepreneur. It is challenging for me to be a young entrepreneur because I never really had a formal corporate job before starting my brand but it is all about taking risks. Nothing worth having comes easy so let the challenges begin!
Drawing inspiration. Just like my first Style Cat Resort collection, it is inspired from local and global travels I do or plan to do. There are so many beautiful places waiting to be explored and I am just one natural curious cat. 
ADVERTISEMENT - CONTINUE READING BELOW
Love duo. "For Style Cat, my boyfriend Nicholas helps me out with the brand strategy and logistics and I have a creative A-team who did the lookbook photos and video. For the branding, I tapped artsy duo Ina & Elle Battung of Hello Line Studio. I feel so relieved that I am actually working with a team now! Unlike my brand back in college where it was a one woman's show, everything is just more fun when shared. So I love it! Everyone also contributes what they think for Style Cat so it's mini-crowdsourced information that turns out to be super helpful." 
ADVERTISEMENT - CONTINUE READING BELOW
Little challenges. "A current challenge I face now is to look for more weavers and indigenous communities who master at this skill. I want to show them that woven products aren't just a novelty or souvenir, it can be something they can earn a sustainable income from!"
ADVERTISEMENT - CONTINUE READING BELOW
Staying original. "Style Cat products are inspired from stories that I personally experience. It is rooted from my love for sustainable fashion and love for travel. As for the price points, I didn't want to price it too high to make it accessible to a wider range. After all, we ought to be proud of our local products!"

ADVERTISEMENT - CONTINUE READING BELOW
What's next? "Style Cat plans to tap more communities and empower local artisans. Eventually, I want it made in the Philippines one day and applauded in New York the next day. Let's go global! Hopefully!"
Entrepreneurial philosophy. "Sometimes I scare myself that no one will buy my products but I always think "If I like it, someone out there will like it too!"
ADVERTISEMENT - CONTINUE READING BELOW
So don't give up too fast—just find the right niche!
To young budding entrepreneurs. "My advice for entrepreneurs is be in a business for the right cause. It's the key for a long brand life. Be competitive and take risks!"
Know any young entrepreneurs? Leave a comment below and you just might see them on the site next week!
It's the best time to pick up a new hobby and put those notebooks to use.
We can't handle this breakup!
For days when you need an instant outfit inspo that's still campus-appropriate.
It could very well be one of the world's largest volcanoes.
From consistently badmouthing another friend behind their backs to making snide comments sneakily disguised as compliments, here's how to deal with a tricky friendship.
From sisig to bulalo, the North has a lot to offer.
Even college students like us can apply for freelance creative jobs while we're still going for that diploma!
These simple practices, when done consistently, end up being worth a lot.
It can actually *shatter* your cartilage.
Bordeos becomes meat of online talk while helping out in family's meat business.
From her gowns down to the décor and food!
Trish is part of Candy Rookies 2020, a group of influential and aspirational college students handpicked to represent #GenerationCandy in the year to come.