Sequins and ruffles were all the rage in 2008 so these were the trimmings I chose to use for this project. Depending on the ribbons/trimmings you choose, you can spend as low as P50 for a armful of cuffs! You'll surely be bombarded with images of pretty ribbons and trimmings at the store, so it would be better if you have a "look" or inspiration in mind. These trimmings are usually used as accents for gowns and what not, so there will ba a wide variety of picks to choose from.
Spend wisely, let your creative juices running, and you'll be a certified recessionista fashionista (and your friends will love your gifts-even if they're a bit late!)
Items needed:
- trimmings/ ribbon
- velcro
- glue gun
Step 1: Get your chosen trimming and cut your desired length. You can burn the edges so it won't unravel.
Step 2: Cut some velcro and glue it to the cuff edges. Remember to glue one inside and one outside. This will serve as the closure of the cuff.
Step 3: Trim off excess material on both edges, and the cuff is done!
Now, wasn't that easy?
* You can sew on snaps or hooks if you don't want to use velcro.
* You can also add more embellishments if you want. You can use sequins, buttons, jewels, and even add chains, beads and what not. You can make it as elaborate or as simple as you want! Since you'll be giving this as gifts, take the person's personal style into consideration while you're creating the piece. A personalized, heart-felt gift will definitely make any lucky recipient smile!
ADVERTISEMENT - CONTINUE READING BELOW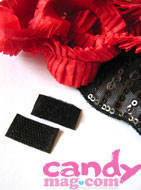 ADVERTISEMENT - CONTINUE READING BELOW