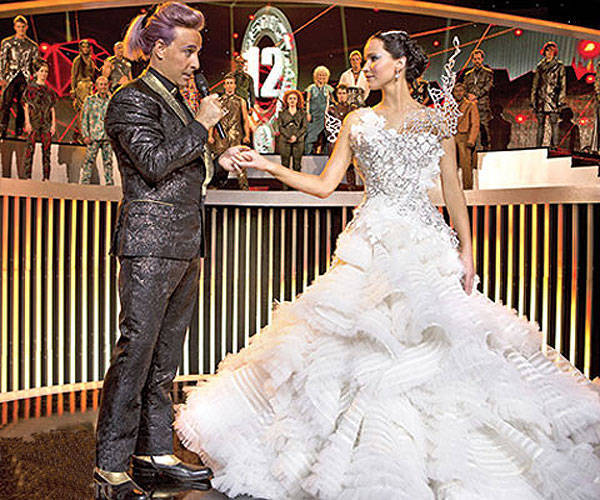 If you've all seen those Catching Fire posters with Katniss Everdeen in an elaborate gown and you're excited to see more, this photo is for you! It's one of the first movie stills showing off the wedding dress. We fell in love with it the moment we saw it (doesn't Jennifer Lawrence look so ethereal?) and couldn't help but think of it as the perfect inspiration for a fantasy debut dress. It's definitely a showstopper and ideal for any girl who's ever dreamt of being a princess. Although, if this dress might seem a little too extravagant, we've got three tips to style it differently:
Go short. Walking around your party with a huge skirt and train might seem like a challenge, so choosing to shorten this embellished dress with a cascading ruffled skirt to give it a more playful feel without losing the princess-like vibe!
Top focus. Choose to get inspired only with the embellished bustier part of the dress and go with a sleek skirt for the bottom of your dress! If you want a very sophisticated look, choose a mermaid cut.
Ruffled. If you're more into the flirty vibe of the ruffled skirt, go with a simple sweetheart cut for your debut dress! Or, you can even go with a woven style to complicate the texture of your skirt.
What kind of dress would you come up with using Katniss's wedding dress as inspiration? Share your style ideas with us by leaving a comment!
ADVERTISEMENT - CONTINUE READING BELOW