Creative Recreation is not your average sneaker brand. Based from what I've seen, their sneaks look very urban chic! Their original and high-fashion designs were simply breath-taking when I eyed them at the launch of the store. The brand was first launched in Orange County, California in 2002 and has since conquered other countries like Taiwan, Korea, Canada, France. Now it has come to our shores to bring the sneaker fever.

Brands like Zoo York and Ecko Unltd. were also stars of that night. There was a fashion show wherein the latest collections of the brands were seen on the runway. I thought the collections define basically what a teen's closet must have. Their colorful graphic tees and hoodies screamed teen spirit and their blouses and dresses with different unique prints caught my attention and I told myself I just have to get myself one of those. My absolute favorites were the blazers! Especially the military blazer that I just fell in love with right there and then.

It was a fun-filled event. There were also Art Installations, which defined Creative Recreation's amazing imaginative style. I spotted celebs like Jon Avila and Sanya Smith, who was one of the evening's hosts. I also got to see one of my favorite models and photographers, Tricia Gosingtian and I was so happy that I got a chance to chat with her for a while. Throughout the night, prizes from Zoo York, Ecko, Nooka, Pony, Dean and Trent, Ray ban, and G-shock were given away to lucky the lucky people whose names were chosen. Ending the event, fashion designer Mich Dulce, together with her band Us-2, Evil-0 performed their funky, upbeat music for everyone. I couldn't help but sway and jump along to their songs. It was a super fun evening and I can't wait to hit the Creative Recreation store and shop for a new pair of sneaks!
ADVERTISEMENT - CONTINUE READING BELOW
Creative Recreation is available at the Complex store in Eastwood Mall.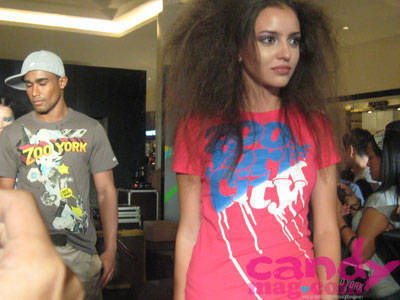 ADVERTISEMENT - CONTINUE READING BELOW