It's back to school once again! We're back to reading literature books, understanding poems of literary artists, and discovering what's behind each and every line they wrote. Think about it, literature doesn't have to be boring. You can try to understand it by trying to incorporate scenarios in pop culture. You can even wear these literature pieces on your sleeves.
Freeway, one of the country's hippest RTW brands, celebrated Filipino art and culture in the most fashionable way with the recent launch of its latest National Artist Collectors' Series. Having previously featured National Artists Nick Joaquin and Ang Kiukok, this time, the spotlight was trained on literary genius Jose Garcia Villa.
Born in 1908, Villa was a Filipino poet, literary critic, short story writer, and painter, known for his short stories and avant-garde poems. He is considered to be one of the greatest influences in the Philippine literary scene despite having spent most of his life in the United States. Named a National Artist in 1973, he was also a recipient of the Guggenheim, Bollingen, and Rockefeller fellowships for poetry and two honorary doctorates in Literature from Far Eastern Univerity and University of the Philippines, among several other awards.
ADVERTISEMENT - CONTINUE READING BELOW
To debut this season's commemorative collection, Freeway held a Tertulia–a literary gathering—in Villa's honor last June 16 at the Legarda Elementary School in Sampaloc, Manila. The program opened with a folk dance presentation by the students and commemorative slide shows of Villa's life and Legarda Elementary School, a Dep Ed heritage landmark site for its American-era architecture and long tradition of excellence.
The Tertulia proper featured a reading of selected Villa poems by renowned actress Cherie Gil, followed by an interpretation of several of Villa's children's poems by the students. Ms. Virgie Moreno, a good friend of Villa and his co-member in Ravens, a group of influential writers in the 1960s, and Ms. Ruby Villanueva Precilla, Villa's favorite niece, were present to share their fond memories of the literary genius. Champ Lui Pio, the frontman of local band Hale, also rendered two of his band's songs, Wala Ka Na and Blue Sky, which was proceeded by the students dancing to Kahit Pa.
As a parting gift, Freeway's Sheree Roxas Chua-Gotuaco and Katty Roxas Chua-Qua donated Jose Garcia Villa books to Legarda Elementary School. In addition, Tim Yap, creative director of the Philippine Star's pop culture section Supreme and self-proclaimed eventologist, presented to the school a gift of P100,000 worth of school supplies.
Using high-technology printing and colorfully creative graphic works and layout, Freeway will be featuring some of Villa's well known works in dresses, tops, outerwear, leggings, bags and accessories, with most of the pieces featuring some of Villa's own sketches. All items will have their own gift packaging, a swing tag of Villa's bio and a Jose Garcia Villa authenticity stamp printed on the merchandise.
Freeway is available at leading malls nationwide.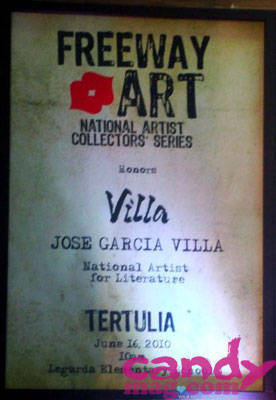 ADVERTISEMENT - CONTINUE READING BELOW