Name: Cheska Balingit
Age: 18
School: Angeles University Foundation
Hometown: Angeles City, Pampanga
Mood dresser. My style actually depends on my mood. I can dress up into something boyish and chic at the same time. My style is something laid back, girly and sometimes edgy. I also love experimenting with everything, especially with DIYs! I also collect shoes. I really, really love shoes! Who doesn't, right?
Shopper lover. I shop anywhere! I shop at malls and thrift stores. For me, brands don't matter. If a certain piece looks good on me, I'll go for it!
Style icons. The fashion bloggers—especially the Lookbookers! I love their style!
Web influence. The World Wide Web influenced my style a lot. I look for outfit ideas on different websites like Lookbook. I learned how to experiment with my clothes and updated myself with the latest trends.
Monochrome love. My closet's color palette include a lot of dark colors, mostly black. I can wear them with anything! But I also own pieces which have feminine colors.
Accessorize. I love wearing rings! And a necklaces, too. They prettify my outfit! I actually have a huge collection.
Never ever! A bright top, maybe a yellow or an orange one. It makes me look dark!
Trend rebirth. I would love the '80s fashion to make a comeback! 1980s fashion was about candy-colored, loud, punk fashion, which is very Cyndi Lauper or Madonna-ish. And the '80s is also about skirts (tiered skirts, bubble hem skirts, long skirts), which I love!
Best bargain buy. I saw a pair of pre-loved Dr Martens-inspired boots online, I immediately bought them!
ADVERTISEMENT - CONTINUE READING BELOW
Do you want to be the next It Girl on The Web? Fill out the form here.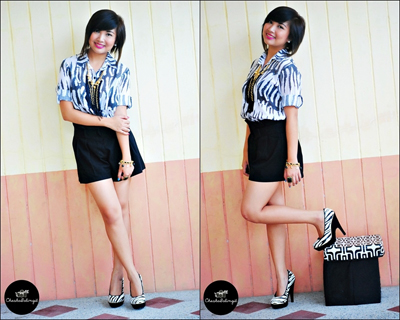 ADVERTISEMENT - CONTINUE READING BELOW