Name: Chari Trinidad
School: Ateneo de Manila University
Hometown: Manila
Mood styler. My style's very moody. There are times when I dress up edgy, sometimes dainty. You name it!
Shopping galore. Well my top two favorite stores are Topshop and Zara. And whenever I feel like going for the affordable ones, I check out The Ramp. Whenever I'm abroad, I love checking out the bazaars for awesome unique finds!
Fave fashion designer. Rajo Laurel
Tell the time. I don't leave the house without my watch.
Inspiried. I get fashion inspiration from my mom.
Style goddess. Nicole Richie.
Color palette. I have all colors! Majority of it though are the neutral ones: white, black, and beige.
Never ever! Fishnet stockings!
The basics. Denim shorts, white polo, floral dress
Trend rebirth. Loafers and boat shoes, definitely!
Vintage owns. I have a lot and my favorite would be this Guess white polo from my mom and this tops about 8 years old already!
Do you want to be the next It Girl on The Web? Fill out the form here.
ADVERTISEMENT - CONTINUE READING BELOW
ADVERTISEMENT - CONTINUE READING BELOW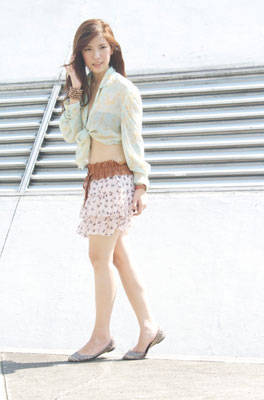 ADVERTISEMENT - CONTINUE READING BELOW