Aptly called Adidas Neo, the label consists of statement pieces that are in line with today's generation; it does a truly magnificent job in feeding the youth's constant want to stand out from the crowd without risking a ticket from the notorious fashion police. Let's not forget that the brand also continues in defying the line that bridges the gap between what is sporty and what is trendy.
In line with this, Adidas Philippines held a bash that featured several teenagers who excelled in various fields to help present their new range of products. Among them are Tricia Gosingtian, Tippy Dos Santos, Sam Concepcion, Mike Silungan, and Jessy Mendiola. Everyone from celebrities, dancers, cheerleaders and bands were present at the launch, all of them being members of the youth, of course. Many students from well-known universities were also seen roaming the area and enjoying the many sections that the event offered: photobooth stations, Wii gaming area, Online Internet Services, and food stalls among others. All in all, the event was successful in promoting the vision for their new label as "something fresh, new and accessible for the adapting and trendy youth." In fact one thing's certain, with the increase in the fashion industry's hold on its young and aspiring "students", we can all be assured that Adidas's Neo line is here to stay for a very long time.
Check out the slideshow below for photos from the event! For more info on the products, click here.
ADVERTISEMENT - CONTINUE READING BELOW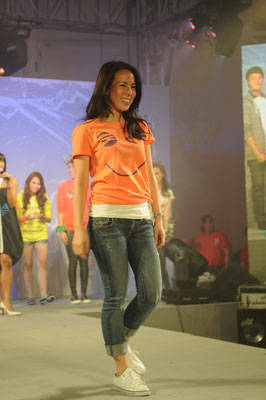 ADVERTISEMENT - CONTINUE READING BELOW