Name: Camille Bastillo
Age: 22
School: University of Sto. Tomas
Hometown: Meycauayan, Bulacan
Lolita lover. My style would always have to be cute. Whatever color or whatever motif it might be, I would always want myself to look younger than my age as oppose to what other girls my age would want to wear and this is why I fell in love with the Lolita fashion.
DIY. I shop for my Lolita clothes online. Whenever I have time, I would shop for fabrics locally and sew my own clothes.
Fave fashion designer. Maki and Asuka, the designers of Angelic Pretty. They always design the cutest prints for their fabrics!
What I'm always wearing. A pink wig! And whenever I'm in my Lolita style, petticoats are a must. Without them, I'd feel like I'm just wearing a regular dress or a skirt and I am not wearing a Lolita ensemble.
Anime-inspired. My greatest inspiration would be Miwako Sakurada from the manga/anime Paradise Kiss, she's such a sweet and bubbly character and she always looks cute in whatever she wears. I also get my inspiration from photos of other girls wearing their own Lolita ensemble on the streets without any care of what other people may think or say. They make me tell myself, I love what I'm doing and I'm having fun and people can just stare and be jealous of my happiness. My other inspiration would be Novala Takemoto, I thank him so much for writing Kamikaze Girls, a story about a girl who was just not wearing the clothes to be Lolita but also considered it as her lifestyle. Quoting Mr. Takemoto: "let's all get along while following our own paths and doing whatever the hell we want!"
Style icon. My favorite style icon would be Takulu. She's so adorable. She would make her own hair accessories to match her dresses. I love how she does her make-up and how she styles her wigs, too.
Living doll. My style is greatly influenced by the Lolita fashion in Japan. This style requires a dress with a bell silhouette helped by a thick petticoat or hoop skirt, lace trimmings and ruffles that would make anyone wearing the style a living doll. Among the sub styles of the fashion, I consider Sweet Lolita my favorite. It focuses on motifs that little girls love like candies, ice creams, teddy bears, bunnies, and the like. I have a weakness for anything cute, too, so this style really fits me best!
Closet color palette. Pastel colors, red, and black.
Never ever! Anything in bright orange.
The basics. Loose curls, cute wedges, and radical leggings.
Trend come-back. The poodle skirt! Then everyone would look so retro, haha!
ADVERTISEMENT - CONTINUE READING BELOW
Know other stylish girls? Post their links on the comment box below or post in TeenTalk.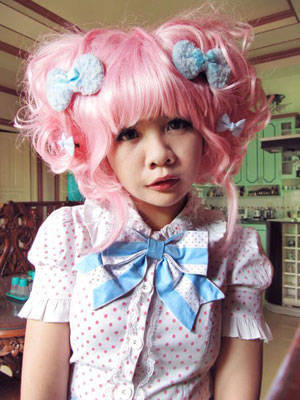 ADVERTISEMENT - CONTINUE READING BELOW