There's no denying the entire nation is excited for the Miss Universe Philippines coronation night happening this September 25. Since the candidates were announced, the internet has been talking nonstop about the online challenges that have caused quite a stir, thanks to this year's viewer voting mechanic. One of the hopefuls that has definitely won the hearts of many is Ayn Bernos. 
The TikTok star and founder of Morena, The Label joined the competition to challenge and break stereotypical beauty standards with her empowering message. A proud morena and petite girl, nothing can really stop the influencer from being a top contender in taking home the crown. But prior to her beauty queen journey, the San Juan city native has always been one to flaunt her distinctly Filipino features on the 'gram. Need proof? Just check out her beach OOTDs! 
5'3" may be a height not many girls are proud of declaring, but for Ayn, it's no big deal at all. To be honest, there's nothing wrong about being petite and it shouldn't stop you from looking and feeling your best. Below, we round-up a slew of poses from the morena beauty you can totally cop if you want to show off your body and stature in the best way possible! 
12 Body Positive Bikini Poses Perfect for Petite Girls, As Seen on Ayn Bernos 
1. Walk on waves.
The waves give off the illusion that you look taller than you are, and with the right camera angle, you can never go wrong! Ayn posted this photo along with a very body-positive caption. The candidate encourages her followers to keep posting pictures, even before they reach their fitness goal. "Celebrate your body at every stage," she wrote.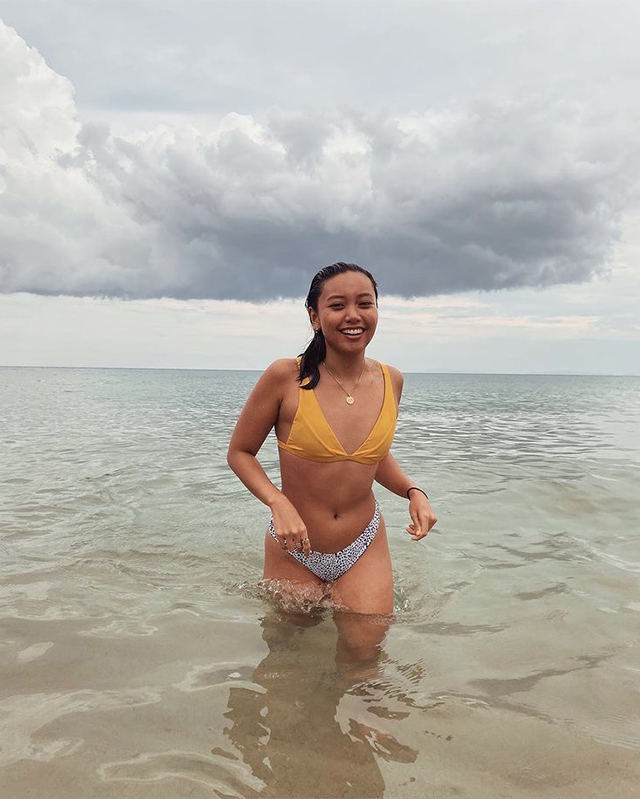 2. Lean sideways on the sand and smile.
This is a pose you can do if you don't have anyone there to take your photo. Just place your camera or your phone on the ground, lean sideways, and smile! Maybe pose with your pupper like Ayn, too. It's always more fun with your furry friend around.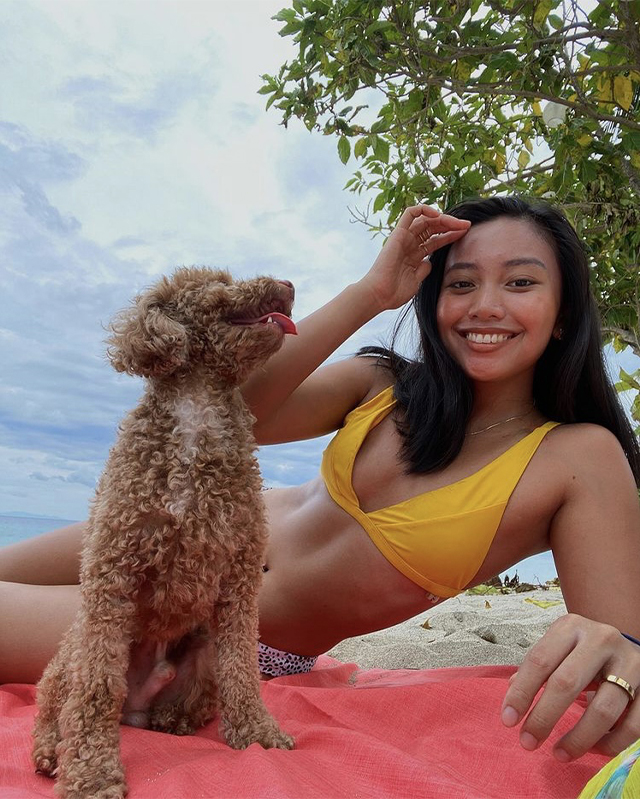 3. Look back and tip toe.
Another pose independent ladies (and gents) who don't have a photographer can copy is this classic "look back" pose, which is a go-to by the pool. The 26-year-old used this photo to bring into light another "Instagram vs. reality" moment where she explains that there are things beyond the app that followers don't see. She captioned, "The only secret sauce here is... Wala akong pake, and I celebrate my body and skin unconditionally. If you're reading this, you should, too."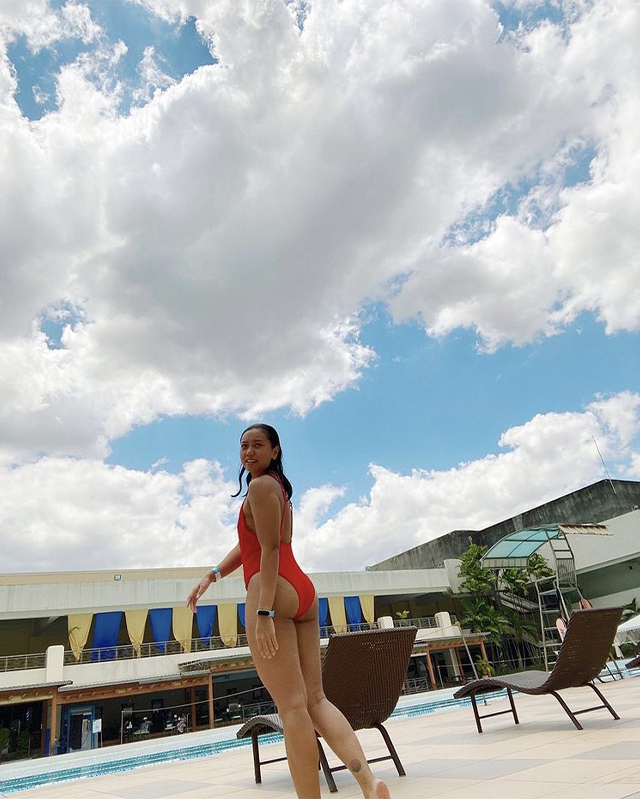 4. You can never go wrong with a low-angled shot. 
Sunny skies? This pose shows off the beautiful sky and adds inches to your height. Tip: Throw on a hot pink 'kini to make your morena complexion pop!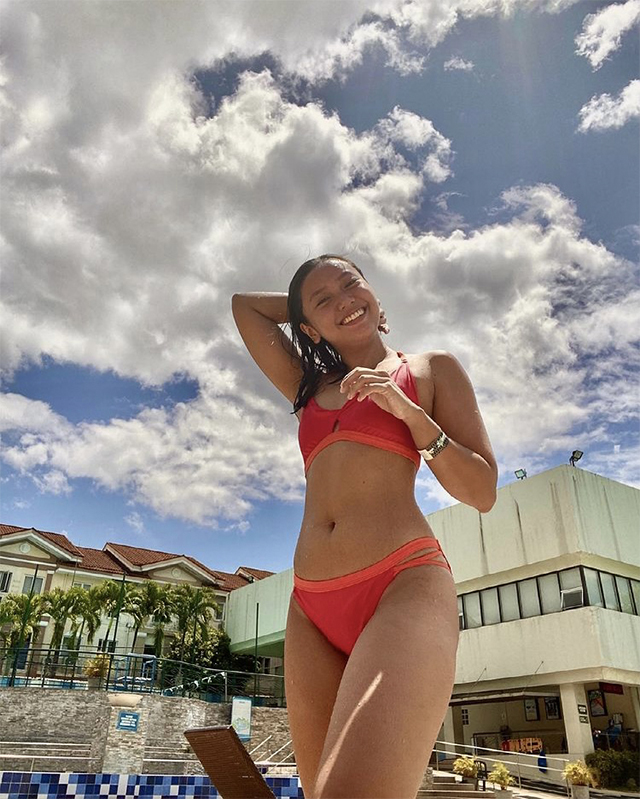 5. Who says bikini pics are just for the beach and pool? 
The Philippines is a hot country, but sometimes the weather isn't always in your favor. Just when you're about to go swimming, the sky decides to look gloomy. But this shouldn't stop you from taking great vacation pics! If it's a bit chilly, layer on a button-down as a cover-up, hold on to a wall or rail, and smile.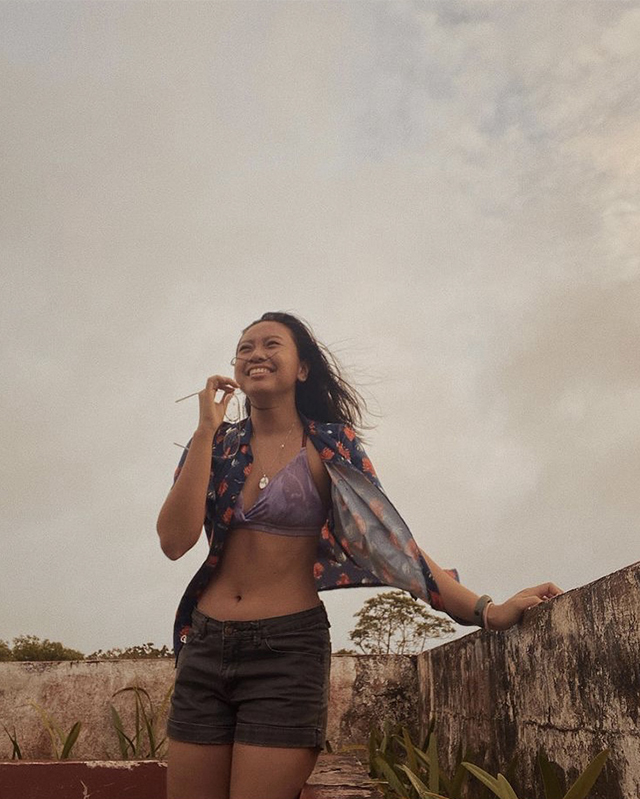 6. Sunkissed golden hour
Place a blanket on the ground, lay on the grass or sand, and pose for the camera! Bring a prop like a book to achieve the "casually tanning under the sun" aesthetic.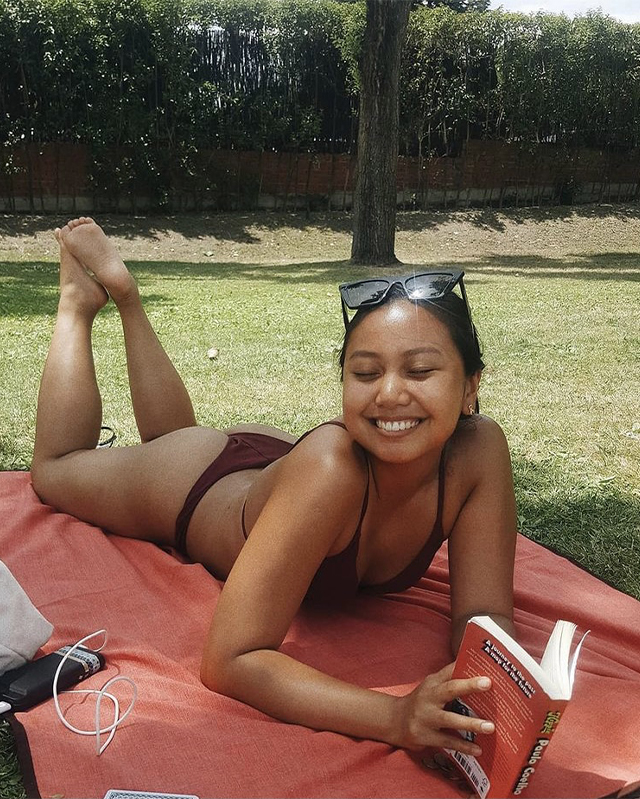 7. The shower isn't just a place to rinse before taking a dip. 
You read that right. Before taking a splash in the pool, hold on to the wall, put on a pair of shades, and smize. Don't forget to angle your body and play with your shape.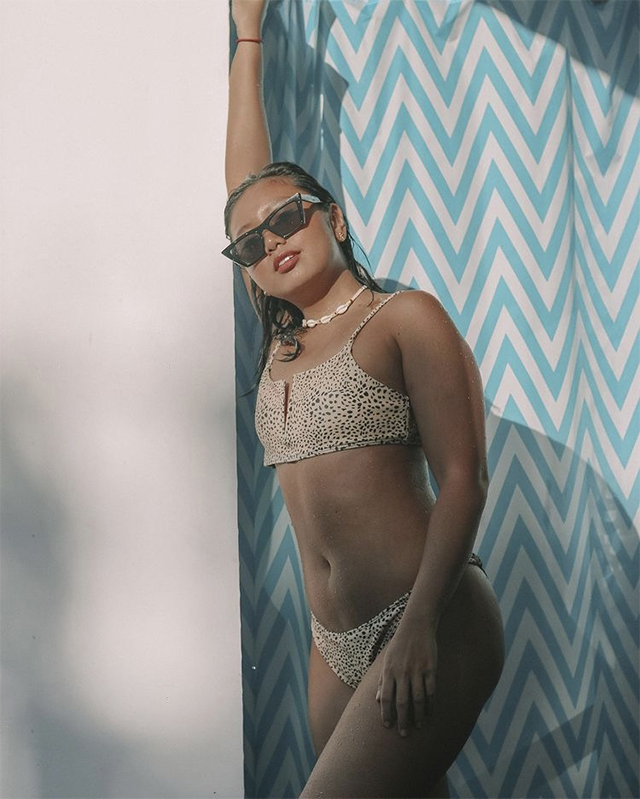 8. Don't want to show your face? Stand tall! 
Flaunt your beach OOTD with a pose that doesn't require you to show your face! A bucket hat is handy when pulling this off, as it doubles as an accessory to shield you from the shade. Make like Ayn and try this out while lounging around at your resort balcony.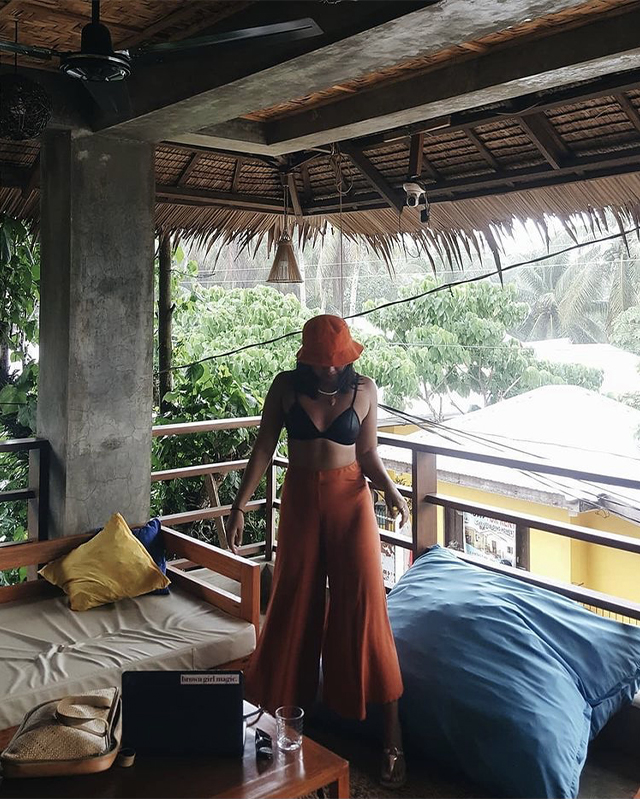 9. Let's not forget the classic "sand kneel!" 
You've probably done this pose at least once in your life, and it make a really good beach photo. It's just fun, simple, and a pose everyone can do to show off their body in the best way possible!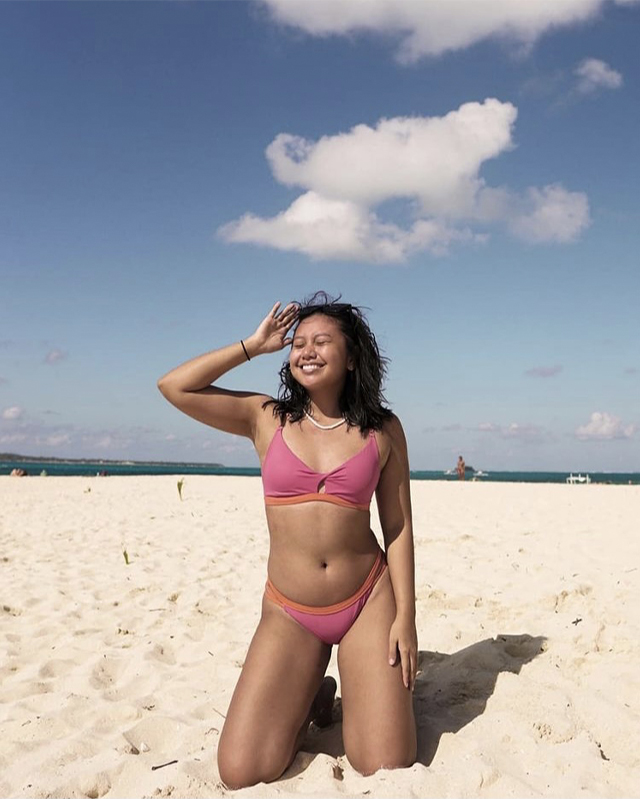 10. Don't forget to lean back and do the "flamingo leg!" 
Lay down on the blanket, bend one leg while pointing your toes and keep the other leg outstretched. This pose will instantly lengthen your silhouette, especially if you take the shot from a high angle! Make sure your feet touch the end of the frame to achieve this perfectly!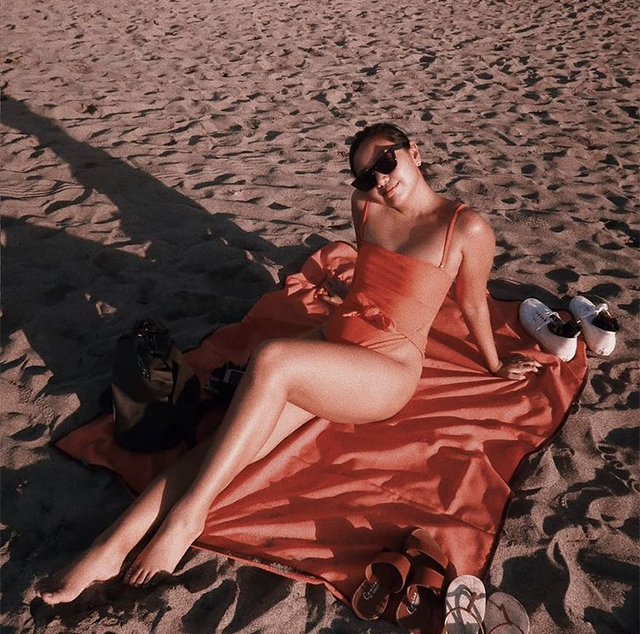 11. Arm up!
A true beach babe like Ayn would never miss the opportunity to be close to the sea. Sit down with your legs tucked to the side and put your arm up to show off the scenic beauty of your surroundings.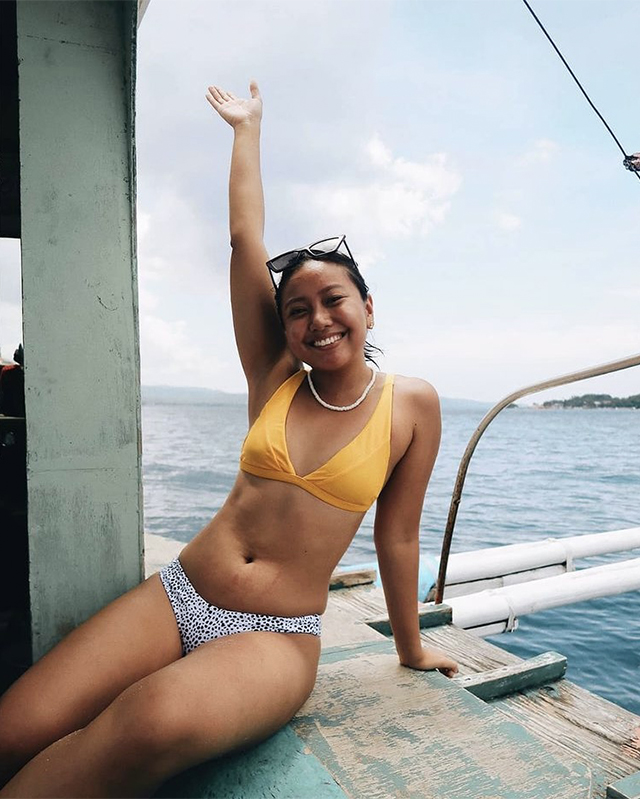 12. Talk back. 
In true Instagram fashion, everyone has at least one talikod-genic pose. Be sure to run your hands through your hair for a more editorial vibe.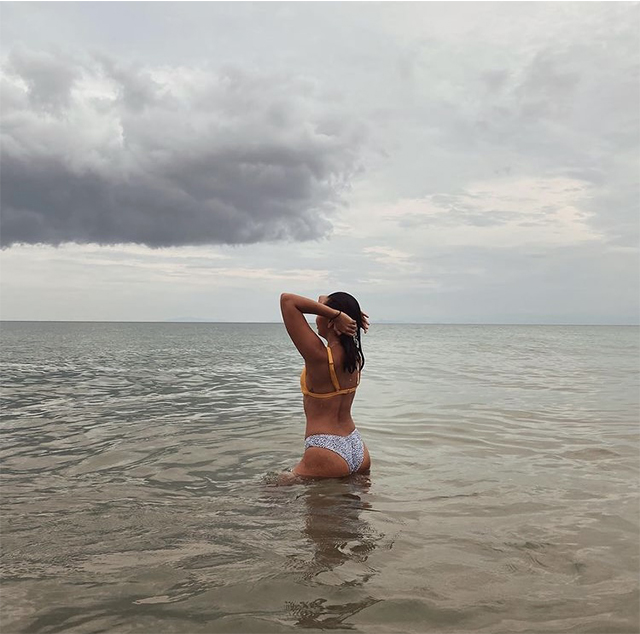 This story originally appeared on Preview.ph.
* Minor edits have been made by the Candymag.com editors.