Name: And Tan
Age: 19
Hometown: Quezon City
School: Singapore Institute of Management
Style as an expression. I would like to think that my style is crazy and grungy. Fashion for me is an expression of my individuality. Therefore I am fearless in expressing my crazy self to the world. But I really do think my mood plays a big role on how I dress. I think as I grow older my style is changing and ever evolving, but hopefully for the better. I try to document this change through my Tumblr and my Lookbook account.
Non-mainstream shopping. I prefer to shop at less mainstream shops, like Online shops, Thrift Shops, and Vintage Markets as their items are much more unusual. But I love shopping at Zara, Forever21 and Topshop as well.
Style icons. Definitely Rumi Neely, and I love how she can style the most classic pieces. Lookbook.nu superstars like Kayla Hadlington, Lua, Andre Chang and many many more.
Style influences. Where I am going. What I will be doing. The Weather. Music. My mood.
Colored clothes. No light baby pinks and blues. A lot of neutrals colors like black and white. But I am trying to revive some of the bright shocking colors.
Love! Right now, I am loving the metal accessories, metal collars and bangles. Shoes like creepers, oxfords and studded flats. Tights and socks are always a must!
Open-minded philosophy on fashion. What I wouldn't be caught dead wearing? Nothing! I try to keep my style open minded. I think everything can look good when styled properly and paired with the right items.
Bring it back. I love the grungy '80s look. I love pairing denim cut-offs paired with black tights or high knee socks and band tee!
Best bargain buy. Vintage band tees! I love them. I usually buy them off the men's section in the thrift shops; they are so cheap.
Oldest piece. Mostly clothes from vintage shops! Also some bags shoes and jewelry too, passed from my mom and grandmother. Also old tees and polo tops I use as a cover-up from my brother.
ADVERTISEMENT - CONTINUE READING BELOW
Do you want to be the next It Girl on The Web? Fill out the form here.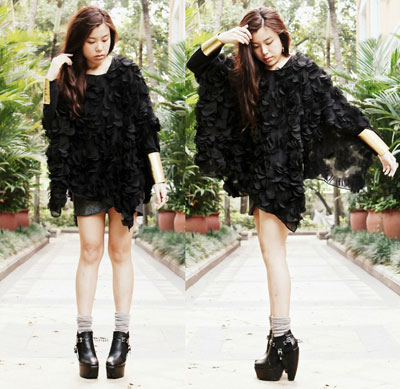 ADVERTISEMENT - CONTINUE READING BELOW