Name: Alyssa Marie Yu
Age: 25
School: UP Manila
Hometown: Manila
Versatile style. One day, you'll see me in an all-white ensemble and a totally different outfit on the next. I guess my style is pretty random.
Shopping faves. I shop anywhere, as long as they're reasonably priced! But I never fail to check Topshop, Zara, Dorothy Perkins, Terranova and Mango!
Style icon. I guess it's Kate Moss. She's effortlessly chic!
Influenced. I am greatly influenced by the things I see. Be it random people in the mall, fashion bloggers in the internet, displays in boutiques--anything!
Color palette. Ever since I got interested in fashion, my closet has always been full of neutrals--white, black, beige, gray, olive green and navy blue. I am currently convincing myself that a little bit of color can be useful in one's closet.
Fave accessory. Choker necklaces. It never fails to brighten any outfit!
Trend alert! Flared jeans! It is already making a comeback!
Best bargain buy. I have a lot of bargain buys. I only buy clothes if I think it's reasonably priced. Most of my clothes are bought from sales. I'm a bargain baby.
ADVERTISEMENT - CONTINUE READING BELOW
Do you want to be the next It Girl on The Web? Fill out the form here.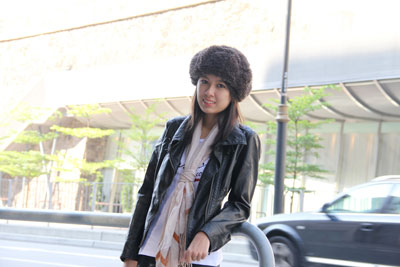 ADVERTISEMENT - CONTINUE READING BELOW