Fashion
18-Year-Old STEM Student Started A Streetwear Line That Now Has Over 10K FB Followers
Inspired by A$AP Rocky's song, the clothing line Coziest was born.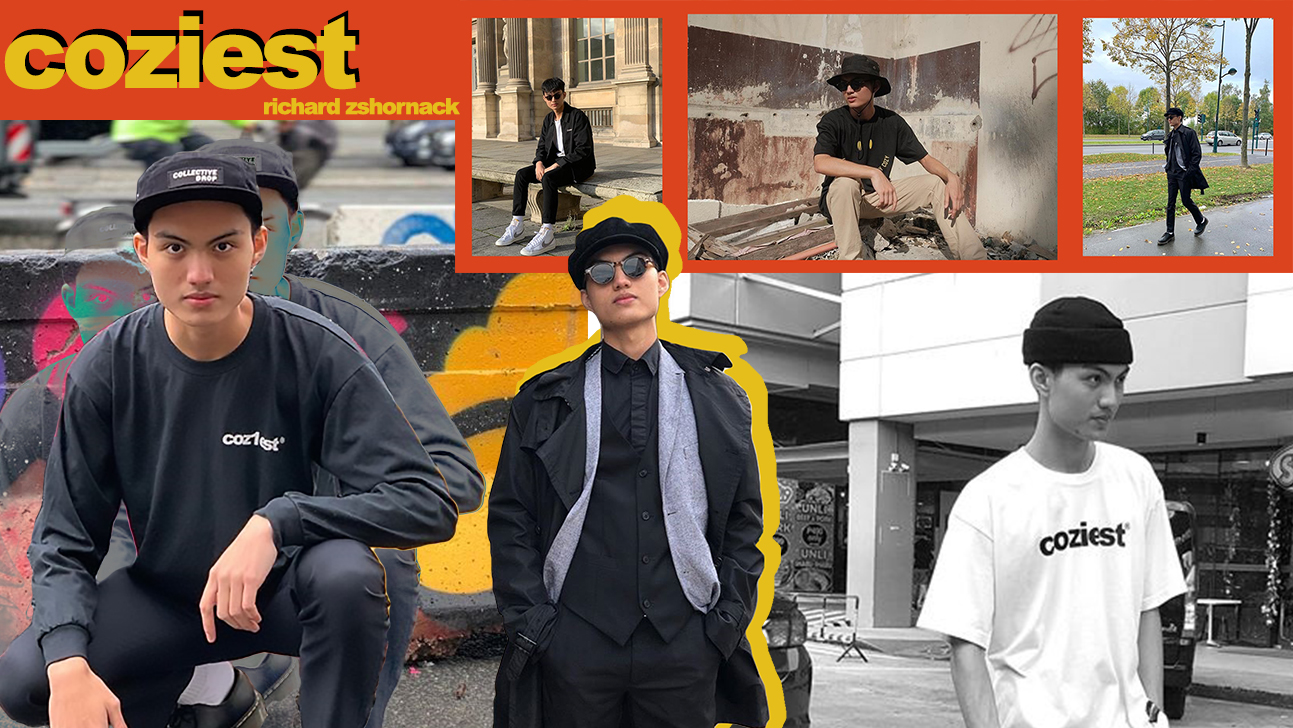 IMAGE Courtesy of Richard Zshornack
Richard Zshornack is a student from Colegio de San Juan de Letran – Manila who has big dreams to connect people through fashion, taking care not to compromise 'coziness' just to look good. At 18, he's already off to do great things with his streetwear clothing line.
The brand started out as a joke that turned out to be a nudge in the right direction for this STEM student. Richard and his best friend, Neil, were talking about what they could do with their lives. Neil, knowing Richard was interested in fashion, suggested that he start his own clothing company, which Richard did not take seriously because it seemed impossible. At first, he thought, "This is just for making money and it is such a hassle..." What a typical busy university student thing to think of, right?
But in what seems like perfect timing, his older brother brought up plans of starting a t-shirt printing business so the three of them thought, why not? He conceptualized later that night and the business was born.
ADVERTISEMENT - CONTINUE READING BELOW
Inspired by A$AP Rocky's song, Richard thinks Coziest is the perfect name for his brand because, according to him, "When you are comfortable with what you wear, your confidence builds up. I envisioned how amazing it [would] be to share my ideas and designs with people through this brand. I imagined how good it would feel [to see] friends bond over my designs, connect, and wear them on the streets, feeling cozy as ever, as how it should be."
ADVERTISEMENT - CONTINUE READING BELOW
He's very hands on with Coziest--he designs, monitors the printing process, mans the booth, and even models for it sometimes. Coziest has shirts, hoodies, bucket hats, and tactical bags (Keep your eye out for beanies, sling bags, and socks they're gonna release soon!). It's no wonder the brand is flourishing.
ADVERTISEMENT - CONTINUE READING BELOW
Richard felt like Coziest reached new heights in November 2019 when multi-awarded news anchor, Julius Babao, sported their Cozy Movements jacket in an IG post.
The clothing line's next release, Butterfly Effect, is slated for this January. This sixth series intends to deliver the message that "every little thing you do can make ripples that lead to a big difference." 
ADVERTISEMENT - CONTINUE READING BELOW
Lastly, Richard shares a message to his peers: "You're never too young or too old to do the things that you want to do. It's not in the timing. As long as you like what you are doing, do it. It doesn't matter how slow you're going. What matters is that you're making progress. You only live once." For Richard, it's important that you should do what you're passionate about so you can live life with no regrets.
ADVERTISEMENT - CONTINUE READING BELOW
I will have to say that it is by far one the best decisions I have made in my whole life.
Isa is part of Candy Rookies 2020, a group of influential and aspirational college students handpicked to represent #GenerationCandy in the year to come.
It's the best time to pick up a new hobby and put those notebooks to use.
We can't handle this breakup!
For days when you need an instant outfit inspo that's still campus-appropriate.
It could very well be one of the world's largest volcanoes.
From consistently badmouthing another friend behind their backs to making snide comments sneakily disguised as compliments, here's how to deal with a tricky friendship.
From sisig to bulalo, the North has a lot to offer.
Even college students like us can apply for freelance creative jobs while we're still going for that diploma!
These simple practices, when done consistently, end up being worth a lot.
It can actually *shatter* your cartilage.
Bordeos becomes meat of online talk while helping out in family's meat business.