1 North West
Kanye West and Kim Kardashian's little girl has got mad style! Check out this photo of North fiercely rocking a white tutu dress.
Style Tip: Sticking to one solid color doesn't mean that you have to look dull. In fact, the color coordination nicely ties your whole outfit together and it gives you a more sophisticated vibe!
2 Aubrey Anderson-Emmons
You may recognize Aubrey as the sweet but spoiled daughter of Mitch Pritchett and Cameron Tucker on Modern Family. In real life, Aubrey is anything but spoiled. In fact, this girl is a budding style icon. Just look at the photo below if you want some proof of her flawless fashion taste.
3 Riley Curry
When you are Stephen Curry's daughter and you are this cute, you are bound to have your own Hollywood fan base. Riley stole our hearts when she invaded her father's press conference in the most adorable way! Now, we can't stop stalking this little cutie and her girly-meets-sporty style!
ADVERTISEMENT - CONTINUE READING BELOW
Style Tip: Maybe it's time to retire those high heels for a while and trade them for something more comfortable! Dress and sneakers? Definite yes!
4 Blue Ivy Carter
Blue Ivy is every bit as perfect as her lovely mother. Here's a photo of Beyonce's daughter totally owning a studded leather jacket. What an adorable little angel!
ADVERTISEMENT - CONTINUE READING BELOW
5 Suri Cruise
The only daughter of Tom Cruise and Katie Holmes is blossoming into a beautiful young lady with perfect sartorial taste! With the streets of New York as her own personal runway, people have been noticing her potential as a future fashion icon. There were even some stories that Suri would launch her own clothing line soon. Sadly, these rumors were quickly dismissed by her mom Katie. Nevertheless, we are still excited for Suri's future fashion endeavors!
Style Tip: If you want to wear a bright outfit but you don't want to look too flashy, the trick is simple–don't go overboard. A colored outfit already makes a strong statement, so don't worry about anything else. Look at Suri sporting a bold orange dress sans accessories. Charming, right?
ADVERTISEMENT - CONTINUE READING BELOW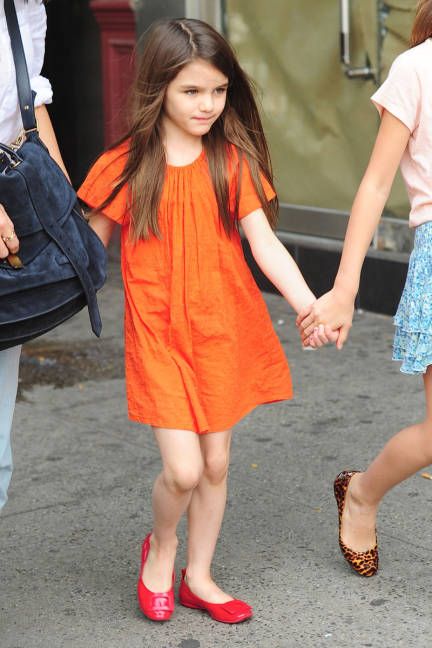 via Pinterest
6 Harper Burtka Harris
Little Harper of Neil Patrick Harris and David Burtka is receiving a lot of social media love thanks to her delightful wardrobe choices. Do yourself a favor and check out her Halloween costumes with her twin Gideon! They will instantly brighten up your day.
7 Harper Beckham
ADVERTISEMENT - CONTINUE READING BELOW
Blessed with good genes and an equally good fashion taste, the Beckhams are usually seated front row at the most prestigious fashion shows. The three young lads of David and Victoria have always been commended by their fans for always looking classy and dashing. But the Beckham brothers do not mind sharing the spotlight with their newest family member–baby Harper! She takes toddler fashion in a whole new level thanks to her mom Victoria who dresses her up in the most stylish pieces.
Style Tip: Adding an eye catching piece (ex. baby Harper's belt) can make a simple outfit look 100x better.
Which Hollywood cutie is your style icon? Leave a comment below or tweet us @candymagdotcom. Let's talk fashion!