Fashion
15 Stylish Dresses to Wear to Graduation
Runway or auditorium aisle? With these dresses, no one will know the difference.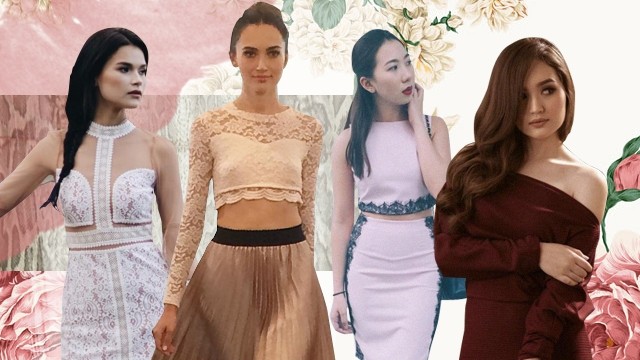 ART Trixie Ison
With graduation season fast approaching, we can get pretty caught up in a whirlwind of stress due to rehearsals, anxiety because of the impending and scarily unseeable future, and waves of inevitable nostalgia for what has been. All good things must come to an end, but that doesn't mean we can't go out with a bang. So take your pick from these 15 gorgeous graduation dresses and go from model student to model as you stride down that auditorium aisle, unapologetically turning it into your very own catwalk.
Good girls are bad girls that haven't been caught. If you spent the whole year perfecting your goody-two-shoes image but aim to shock tonight with a daring piece, this floral navy blue ensemble gives the illusion of innocence but strikes back with sheer strips for an edge-y peek at the skin.
Go for the Go(a)ld. Student athletes, you deserve a prize for surviving this school year despite all those competitions and hectic training schedules. So whether or not you're bringing home an award, there's no reason why you shouldn't embody the trophy you rightfully deserve.
Gimme some skin. For all those girls who hide behind oversized hoodies and loose-fitting jackets, it's time to break out of your fabric shell. Graduation day isn't just to commemorate your academic evolution throughout the school year, it's also a time to celebrate your personal transformation. So drop the baggy sweater and drop jaws instead with this daring backless and v-neckline gown.
#TreatYoSelf. School uniforms can be such a pain, especially for the fitness buffs that (literally) shed blood, sweat, and tears to achieve their ideal figure just to hide it under something that everybody else is wearing. Let yourself have a chic cheat day from covering up by donning this minimalistic keyhole and body-contouring LBD during your grad celebration.
You and me got a whole lot of history. Paging all history nerds, this one's for you: Aiming for an outfit that'll incorporate your love for both then and now? Pastel coordinates will give you a modern base, but the vintage demask-style lace trimming will give it that Victorian twist you learned about in class.
One step at a time. Quiet girl that's not too ready for a full-on transformation? Don't worry about it. This sleek and safe beige vest and black matching set is the perfect baby step in the direction to bolder and edgier looks.
The Trendy Alternative. Tight numbers and embellished gowns aren't for everyone, so celebrate the individuality that you radiated through the school year with this all-white maxi-top and matchy trousers ensemble. You get plus points since the draping cape and thigh slit gives it the same flowing effect a designer dress would, anyway
Kill 'em with kindness.For highschool graduates, society may tell you that to survive the world outside, you gotta toughen up. But a strong girl doesn't need to trade in her sweet persona to prove what she can handle. A light blue, floral sweetheart will be a perfect weapon of choice in conquering the future (which is embodied in graduation night) for those cute and courageous ladies.
State of grace. Sheer nude and white lace? You might as well fly off of a cloud as your grand entrace because with this gorgeous dress, you'll be an ethereal goddess gracing the entire auditorium with your very existence.
Artsy-fartsy. You are the art that you create, so for all those tasteful and creative students, stray away from the usual by opting for a more avant garde graduation dress. Juxtapose textures with a long-sleeved lace  crop top and an accordion-pleated skirt, neutralized with a nude color scheme to rock that avant garde vibe you've been emanating all year.
Perky princess. If you've ever been called "kikay" or "maarte", then this is the perfect look for you. Proudly radiate girly and feminine chic with a sorbet chiffon tea length dress cinched with a 3-inch bejewelled belt and finish off the look with sparkling silver heels to boot.
Rebel girl. This all-black sheer slit dress paired with inky studded pumps make for the ultimate rebel effect. Think it's a risky choice? It's the last day of school anyway, so a bit of danger won't hurt anyone.
Chill chic. For all the girls who find theirselves sleeping in between (and sometimes during—oops!) classes, this dress is whispering your name. Stretched knit and relaxed fabric, you'll be strutting down the auditorium with the kind of flair that'll make your fellow illegal-nappers want to stay awake.
Poised and proper. Mix modest and mod with a simple floral scoop neck mini and a thin pastel belt to balance out the hues. Pair with white wedges plus a matching clutch, and you'll be the walking definition of daintiness.
Class act. One thing all class/council officers have in common? When they stand before a class, they're general aura just commands attention without even lifting a finger. Like the queens they are, these girls can channel regal allure with a white mini decked out with lace shoulders and a statement back.
What are you planning to wear for grad?
What if CLOY is really based on a Pinoy teleserye?
Have you tried this internet-famous drink?
The local brand has partnered with charity organization Give PH to help with the donations.
If you're desperate for a cut, YouTube is your best friend.
She recently sang it again during an Instagram Live with husband Taylor Goldsmith!
They also had a short jam session!
"I was genuinely afraid I would die, because that is what it felt like."
If you haven't already picked up on that.
It'll be just like the good, old days-except now, you can watch it any time, anywhere.
Molo has since posted his public apology online via Instagram stories.