Candy Feels
I'll Go Through Everything Again For You
From best friends to lovers, you are worth the risk.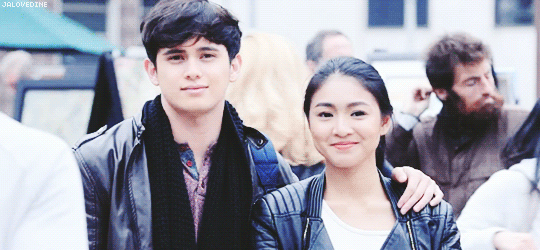 GIF ABS-CBN/Tumblr (@jalovedine)
I met you when I was 14 and back then, you were just a friend. You were just a friend until you offered me your hand and asked me to take a step with you. I grabbed your shirtsleeve in response. You just smiled, contented with what I can give. We remained the best of friends.
Your love were like whispers and hushed tones that I can't clearly hear. Its warmth was meant to be felt.
And then a lot of things happened. Confused and fortified, I broke your heart. Hurt and unsure, you broke mine. Then we stopped talking, and until now I don't know why. Maybe that's my fault for playing it safe. Maybe it's yours, your inability to wait. But on those moments of silence, the longing for your hand became stronger—a hand that I got used to holding along, a hand I didn't want to let go of.
We started talking again. It felt like nothing really changed, like kids from kindergarten who do not know each other but somehow, something just drew them in. I was able to see your smile again, and I'm glad. We were connected again. We were able to take steps hand in hand again.
But then things started to change again. We started to argue, doubts and differences floated on the surface. We began to hurt each other. We even questioned if it was right to give this another try. We started to doubt whether this was worth everything we've been through.
I just looked into your eyes, the eyes that used to make me feel warm and safe. You looked back at me, and I can see that familiar stare once again. Somehow things felt okay. We still hoped for the best. We chose not to give up, not to give each other up. We still chose to hold onto each other and stay where we are.
It has been nine years since then. And I still don't regret taking that leap wih you. Taking your hand was risky. Those late night conversations, corny and weird random activities, cravings for fries and pizza, movie marathons, silly arguments, and even our worst fights, will never be replaced. You, my best friend, my confidant, my believer, my soul mate, is indeed worth everything. And if I am given a choice, without a doubt I will do it all again for you. I will go through everything again for you.
\\\\\\\\\\\\\\\\\\\\\\\\\\\\\\\\\\\\\\\\\\\\\\\\\\\\\\\\\\\\\\\\\\
Get the latest updates from candy!
subscribe to our newsletter!
////////////////////////////////////////////////////////////////
You know you'll regret it.
You don't even have to leave the house!
From digital art to photography to mixed media, Filipino artists show that creativity is never lost in our people.
Skip a makeup step with these beauty goodies!
Take pretty notes and study effectively with these tips!
Wait for a love like this. A love that is good to you, for you.
Are you up for this challenge?
Can't wait to see the actual gowns!