Candy Feels
From Our Readers: You Saved Me from the Rain
You were my ray of sunshine.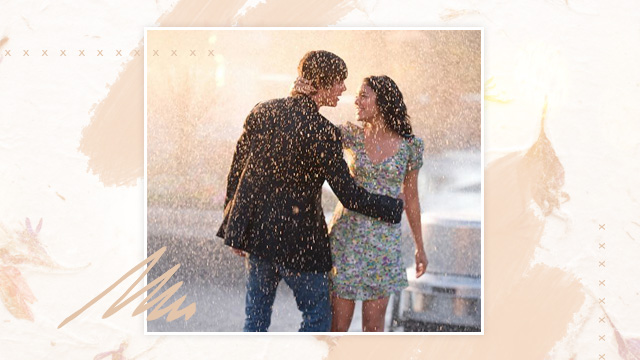 PHOTO Disney Channel ART Clare Magno
I knew it was going to rain that day, but I still refused to bring my umbrella. The thunder roared angrily, giving me its first and last warning. I knew that if I stayed, it'll hurt me but I still stood there in front hoping it won't; but it did. The lightning came thereafter, angrily slicing through my heart, making it fall apart to a thousand little pieces. I gathered all of them so I could start fixing what I have, but I just cut myself again. My heart was bleeding
The rain then poured heavily above my head. Panic rose within me, so I tried running away from that dark cloud as fast as I can, but it seems that it won't leave me. An escape was nowhere in sight. Then I saw you.
You were happily standing there, under your sunny weather. I had the urge to scream your name, but I didn't want you to get soaked in my rain. You were happy, so happy that it would be cruel of me to ruin that. So I hopelessly sat down and pretended like the rain wasn't making me numb and cold.
ADVERTISEMENT - CONTINUE READING BELOW
The raindrops suddenly stopped falling. When I looked up, you were there. Your clouds were on me. Your mouth slowly formed into a smile, one that instantly brightened everything. We were happy. I forgot about the catastrophe that happened and whatever struggle I've been through before you came.
You were my new hope: the rainbow that put color into my damn whole sky; the stars that were scattered and glittered in the night; and the moon that gives me the feeling of certainty and security in the dark. A gift that I appreciated so much that I will treasure for the rest of my life--at least, that's what I've thought.
The dark clouds that I thought were gone appeared again and engulfed yours. I held your hands when I saw your doubtful look. I believed so much in you, that you would stay even if it rained hard. I was wrong. You just didn't hold my hands back. You looked at me instead and told me you didn't want me anymore. You  let go and began turning your back on me.
ADVERTISEMENT - CONTINUE READING BELOW
The clouds that we shared split into two. I was in a stormy weather. Again. My world is dark once more. The strong whooshing wind carried our memories, it constantly whirled in my head and messed up my thoughts. With the raging thunder pained my heart, the lightning got through me. I cried. I couldn't stop.  It's been a while but the storm hasn't ceased yet. Sometimes I thought it's already over, but a drizzle came to remind me of you.
When the sun rises again, I'll be smarter and bring my own umbrella. Maybe by that time, I'll be capable of saving myself from the storm already. There's no assurance that I won't get wet but at least, I won't get soaked. I wish you all the best, with your new ray of sunshine. You don't need to apologize for anything. I've already forgiven you the day you decided to forget about us—or me, because there was really never an us.
ADVERTISEMENT - CONTINUE READING BELOW
Aside from IU, heavyweight groups like BTS, BLACKPINK, TWICE, and BIGBANG are also on the list!
Both the shop and its drinks are too pink and pretty!
There are also useful tips for showering your cat and cutting their nails. #NEED
Who else is excited for an all new season of "Kingdom"?
It's honestly a pretty decent amount for extra income!
Here's a little guide to get you ready for post-college life.
More Hyun Bin content coming our way!
Makati has plenty of heritage and culture.
These are the styling mistakes you're probably making.
It's the new takeover trend in food.
You might be rekindling an old relationship, but you also wouldn't want to cut ties with other people in the process.
Craving that crispy CLOY goodness?