Candy Feels
From Our Readers: You Just Can't See Me
I'm not the one you need.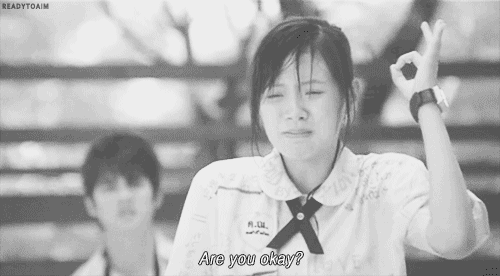 Workpoint Entertainment/Tumblr (readytoaim)
The first time I saw you, I didn't care if you knew I exist. I didn't find you attractive at all. What I knew was you were my batchmate and you were one of the guys who got so much attention in campus. I knew you can easily get the girl you want. Yes, you had the looks but I was pretty sure that that same look already made a lot of girls cry. That time I promised and swore that I would never fall in love with you.
But fate has its own ways. A year passed and I met new people. You were one of my new classmates. We had this tradition on the first day of school to get to know each other. We ended up being in the same group. No big deal. What surprised me was when you talked to me and asked me when my birthday is. I did't know if you were just making fun of me or you were just being friendly to me. I didn't want to be mean that time so I answered your question with a smile.
ADVERTISEMENT - CONTINUE READING BELOW
It didn't end there. Our assigned seats were so close to each other that we can talk whenever we wanted to. You always asked me to help you out, so I did. I remember that time we're doing these "magic tricks" with rubber bands, or those times we were making fun of someone. But what I will never forget is that moment you told me that you already know who my crush was and mentioned the name of the guy I liked before—before you.
CONTINUE READING BELOW
Recommended Videos
I already knew my feelings towards you were starting to change. I feel something different whenever we looked at each other's eyes. It was unexplainable. I knew I liked you. But I also knew it was a mistake. Then that simple crush turned to serious love.
We're in different classes now, and now we act like strangers again. But I'm not surprised because I knew from the very start that you were from a different world. We would never fit in each other's worlds, circles. Yes, it hurt because every time you'd pass by, you'd just ignore me and act like we didn't know each other.
ADVERTISEMENT - CONTINUE READING BELOW
I'm the only one in this love story. It's a one-sided tale. I know that you know I exist, and I am contented with the fact that you know of my existence.
I heard you're deeply in love with a girl. I heard that she even made you cry. It hurts more because I know I'll never be her. But I wish I could do something to lessen the pain you're feeling. If I could just talk to that girl and tell her to love you back, I swear I'd do it but I can't. I can't do anything because I am not the one you need, you want, and you love.
I can't do anything about it because it was my fault. It's my fault for falling for the guy who will never notice me, the guy who just can't see me.
P30,000 is a huge amount!
It's also a fundraising campaign that already surpassed its goal amount.
Plus, other interesting things you might not know about her.
Make your plantita dreams come true while hustling.
The solo artist talks about the importance of collaborating and teamwork.
Athletic brains and academic brawn in one complete package
Proper planning and online hunting are ~key~.
"You can't 'buhat' your team all the way, you have to work together!"
In an interview with Candy, STI College Dasmarinas' Deputy Administrator spoke about the struggles they've encountered amid the pandemic.
The closures are caused by the coronavirus pandemic.
From The Candy Bulletin Community