Candy Feels
From Our Readers: We Were Friends, Nothing More
You came into my life in April and made me fall in love with you by May.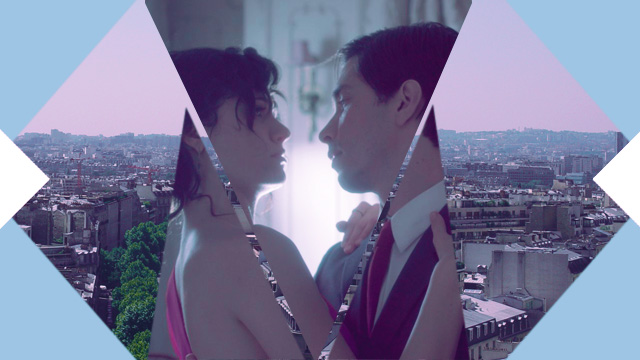 PHOTO IFC Films ART Clare Magno
I can still taste the salty summer air and feel my feet aching when I crossed more than half a dozen pedestrian lanes to get to our meeting spot. For the last time.
My skin was sunburnt, sweaty. Yet I had the goofiest smile on my face. I didn't really think about anything.
Two months have already gone by and our time together slowly decreased. The show was about to end. I haeve to make every second count.
That day you said hi
Was the day I didn't have to remember
The pain in my heart,
The loneliness of December.
You made me feel different
Even relieved, if I may say
You came into my life in April,
And made me fall in love with you by May.
Crowds of people welcomed me when I arrived at the venue but my eyes were glued to you. You rushed towards me, pulled me close, and gave me the tightest hug. I know you noticed the misery in my eyes; little hauntings of the past. You asked how I was doing. So much better, I said. And it was true. Because I had you.
ADVERTISEMENT - CONTINUE READING BELOW
You're not aware of your effect on me
Every time our skin would touch,
I would feel a light electrocution inside,
I guess I really like you that much.
You see, since I met you, nothing felt the same anymore. Everyday I'd wake up excited to go about my day. You were my happy little pill. I just thought you felt the same way.
A couple days have gone by and I took the courage to finally tell you how I feel. I gathered all the words I can say in my head so I that won't have to stammer and look like I'm telling a bad joke. I wanted you to hear me. I wanted you to know my sincerity when I finally say that I like you, I like you a lot.
But after I did, you just looked at me like a lost puppy, trying to figure out what you just heard. I was flustered. I felt silly having to confess like this. I shouldn't have said anything and I knew you were thinking the same. My world turned completely black when you said, we're good friends and I don't want to ruin what we have.
ADVERTISEMENT - CONTINUE READING BELOW
I'm so happy I got the chance to meet you,
I got to be your friend.
I'm sorry I had to feel this way,
I know good friendships shouldn't end. 
Let's just get on with the show,
That's what we're here for anyway.
Let's pretend nothing more happened
And that I have nothing more to say.
We acted like nothing was wrong until the day of the show.
The spotlight was so bright that it was blinding. But if they knew me they would see how hard I was faking my smile. The stage was so wide that I'd get lost in the middle of it, the way I feel about us.
The red curtains lightly grazed the wooden floors
Singing and dancing were replaced by empty corridors
And all I could think of was how you'd wipe away my tears
And tuck away stray hairs behind my ears. 
The applause was my cue to leave. Leave behind everything: the embarrassment, the confession, the thought that maybe there was a possibility of a you and me.
ADVERTISEMENT - CONTINUE READING BELOW
But you ran after me, called out my name. And for a second I thought you've changed your mind. You hugged me and gave me a peck on the cheek and then you said goodbye.
You were my happy pill
And I am so drawn to you
I'm having the worst case of withdrawal
And I just don't know what to do.
Five years later, I was finally over everything that happened and everything that didn't. But you know how fate likes tweaking the small details of your life to make it more interesting? Yes, that was when I saw you again.
Crowds of people welcomed me in this small, congested place, yet my eyes only saw you. You saw me too, smiled, pulled me close and kissed my cheek.
You said hi. And I said hello. But that was it, nothing more.
That day you said hi again
Was the day I had to remember
The pain in my heart,
The fact that we can't be together. 
ADVERTISEMENT - CONTINUE READING BELOW
I saw you again in May
Surprised we'd even see each other
I hope you're doing well.
Have a great June, July, August, September, forever.
Wondering what to expect for the competition on Sunday?
Put these movies on, catch these inspiring quotes, and remind yourself that you deserve to be loved and to grow, with or without your S.O.
For instance, UP MBS welcomes students from any university, college graduates, and even professionals!
From the master crammer to the sleeping beauty.
Do you thrive on working late nights and dread waking up early to get to school?
The student-artist talks about how he got started on portraiture and food art, his most memorable piece, and his advice to fellow student-artists.
For the third time, University of Sto. Tomas ranked first in an independent survey on the best psychology schools in the country.
"Psychology major ka? Sige nga, can you read my mind?"
Before you commit to your first ink, you might want to consider these things first.
Truth is, there's a chance your college major won't be entirely related to your career path.