Candy Feels
From Our Readers: We're Just Pieces of Two Different Puzzles
"It's just that I want you to see my point, being with you is going to be so complicated; I don't want to complicate my life even more."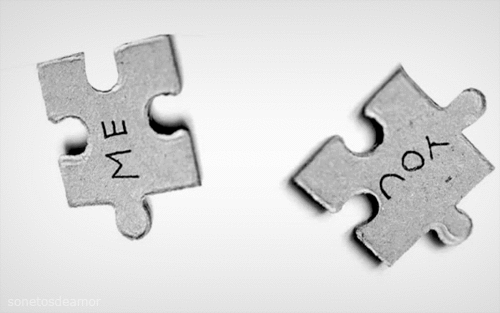 GIF Tumblr (1ndecifr4vel-blog)
They say opposites attract. I believe in that, because we are completely different entities and our only similarity is that we breathe the same air. But despite our differences, we enjoy each other's company. We are able to talk all day without arguing and just be cool about each other's differences.
But you've got things to deal with and I've got mine. I know at some point in time, you're going to lose your temper and patience, so will I. Time will come that you would want to do things that I don't want, our opinions are going to clash and our differences that we once appreciated and enjoyed are going to be the same differences that would break and tear us apart.
Yes, I'm jumping into conclusions, but that is what I'm good at, you'd always say. It's just that I want you to see my point. Being with you is going to be so complicated and I don't want to complicate my life even more. I'm too scared to lose myself once more, because I know that I'm already a lost soul still waiting to be found. I'm too afraid to swim against the current and I don't want to let anyone break down my walls just yet. You may be worthy of all the pain and heartache, but I don't think I'm ready to take risks.
ADVERTISEMENT - CONTINUE READING BELOW
We are just pieces of two different puzzles, impossible to fit into and with each other. And because of our differences, I'm more scared of us. So right now, I would just prefer me and you because I know in the perfect time, this gap that separates us will be the same gap that will bind our hearts and allow us to be a possibility.
The 19-year-old dancer also appeared in the music video and on Jimmy Fallon's show along with her dance crew The Lab!
This is straight out of a teleserye!
It'll be available in five cute colors!
Sometimes, it only takes a few simple additions to brighten up your area and inspire you to stay productive.
Aside from IU, heavyweight groups like BTS, BLACKPINK, TWICE, and BIGBANG are also on the list!
Both the shop and its drinks are too pink and pretty!
There are also useful tips for showering your cat and cutting their nails. #NEED
Who else is excited for an all new season of "Kingdom"?
It's honestly a pretty decent amount for extra income!
Here's a little guide to get you ready for post-college life.
More Hyun Bin content coming our way!