Candy Feels
From Our Readers: True Friendship Comes Back If It's Real
I lost my best friend, then I got her back.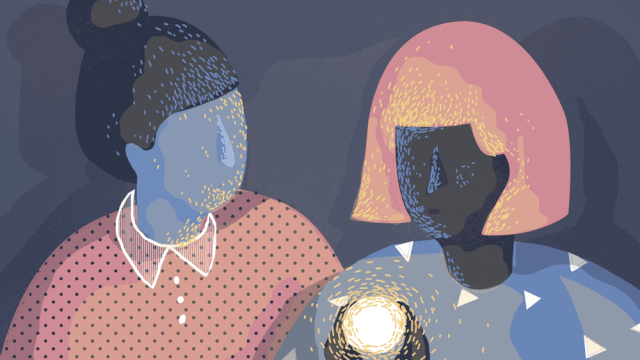 GIF Abbey Lossing/Giphy
I can still remember how we first met. We tried out for the Drums and Bugle Corps as twirlers in our school and luckily, we both got it. After our rehearsals, we made sure that we went home together even though our houses were on opposite directions. We always insisted our proposed route to tricycle drivers so that we could talk about everything while going home. Being tired was not in our vocabulary that we always had time for each other even after a long day of practice. 
You were my travel buddy, my food buddy. Whenever we got together, we always had fun. I remember how much we guffawed over something like there was no tomorrow. Our thoughts were tireless and limitless. We used to create scenarios in our heads which we enjoyed during pastimes. We even had a special name for each other. We both had passion for music. We played the same instruments. We loved the same genre. We had so much common ground.
ADVERTISEMENT - CONTINUE READING BELOW
We used to tell each other everything. You were my sister from another mother, and you knew me better than I knew myself. We might not share the same DNA, but we knew in ourselves that our hearts were intertwined. We were always there for each other no matter what.
I still remember that time I got my heart broken over a guy, and you found me in my room with swollen eyes. You insisted that I go out to have fun and you never left my side. You showed me how wonderful it was to have someone like you. I could not imagine how I would've survived without you back then.
As our friendship blossomed, we were faced with several difficulties. I did not expect that the world would throw us everything it had to offer. We parted ways to go to college. We seldom talked about our lives because of our busy schedules. Gossips started circulating. It was difficult for us to handle them since we barely saw each other face-to-face. People around us took advantage of those moments that we drifted apart. It was such a shame that we believed the rumors and let us fall apart. I always thought we could get right through anything, but distance made things harder.
ADVERTISEMENT - CONTINUE READING BELOW
Just because of an immature choice, everything we had burned to ashes. Just because of selfishness, what we were left with was nothing. I guess, we were not that strong enough like what I thought we were or maybe, we were just too busy to listen to other people that we ignored our feelings towards each other.
I was devastated when we chose to stay away from each other. You did not know how many times I caught myself typing on the chat box, telling you how my day went and how much I missed you. You did not know how much I wanted to click send and reach out to you. It was like moving on from a guy who tore my heart into a million pieces, and all I really wanted was to talk to you, my best friend. 
Then one day, we got the courage to finally talk to each other over the things that ruined what we had. That day when we admitted our mistakes and shortcomings, we knew in ourselves we were both unhappy of the choices we made. We realized how much we missed each other and how often we thought of getting everything we had back to its normal state. It was such a relief to get off those things I kept in my chest for so long. I suppressed the pain of missing you when I made myself believe that we could never be like what we were. That day we gave in and conceded that we got separated by time, distance, and hurtful words. Forgiveness was made such a long time ago that we did not have a chance to say it because of hectic schedules.
ADVERTISEMENT - CONTINUE READING BELOW
Many things changed after we made up. We were not the same best of friends like we used to. We could never bring back how warm we were to each other. We might not bring the exact us but we could always make a new and better friendship than what we've had.
Since the day I met you, I knew you would be a big part of my life. You were different from anybody else. You had so much fun that we complemented each other's personalities. We really were a package deal. At the moment, I am exhilarated that I did not let go of any single thought of you when we were apart. Who would have thought that we would be able to gain our sparks back? Now, we are the living proof that true friendship, no matter how torn it got over time, would always come back. If it is real.
ADVERTISEMENT - CONTINUE READING BELOW
We rounded up some simple reminders that might help you get through this hectic week.
PSA: They're all REALLY CUTE.
Note to self: You having a hard time does not equate to you being less smart.
"You suddenly or sometimes won't feel so smart anymore."
Constant cups of coffee, panic attacks before exams, eyebags for days, and tons of memes about stress. Sound familiar?
If it's something you've meticulously mulled over and thought long and hard about, then you're not marupok because of it.
Trade in your old iPhone for the iPhone 11!
As part of the #BreakTheStigma campaign, mental health experts and advocates say there is nothing wrong with asking for and needing help.
Carlie Hanson is definitely someone to watch for!
Because coffee is LIFE, no matter where you are.
Contrary to popular belief, it's rare for people to find the "perfect" first job!