Candy Feels
From Our Readers: To the One Who Never Saw Me Waiting At The Other End
You always tell me you want it to be her but, to me it will always be you. Always.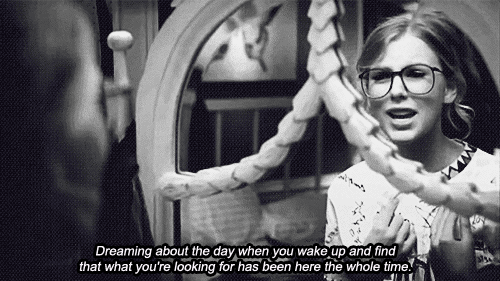 GIF MCA Music/giphy.com
With only less than a year of knowing you, you already took a special place in my heart. You've already awakened a feeling in me that I thought was only the brotherly kind. The brother I always wished I had. You became like my guy best friend and I always saw us like that. Just like that. But I proved this feeling wrong when you started talking about an anonymous girl. I thought that feeling a bit irritated whenever you talk about her was just normal. I thought it was just like the little-sister-learning-that-her-brother-got-a-girlfriend feeling. The one where the little sister gets scared because her brother might have less time and attention for her just because he's got a new girl.
You got way too comfortable talking to me about her that every conversation we had. It's always her you blabber about. It was okay with me at first but, I started hating it when I also started hating the feeling I'd get every time you talked about her. It was like you were only talking to me because you had something to talk about her again. The girl you could've had a chance with but she didn't take the risk at all. The girl from your high school days who was also the girl best friend that—cliché as it may sound—you fell for.
ADVERTISEMENT - CONTINUE READING BELOW
She was your greatest crush. You shared your story with me. A long story that all boils down to you trying to take a chance on her but, she can't give you that chance because she's still head-over-heels in love with her ex. After all, you just can't compete with a past flame that lasted for six freaking years. I became your confidante, your diary of wasted time and effort for her, and your ever-so supportive adviser and sometimes, reality-slapper. This went on for at least a couple of months and as those days passed I realized that the irritation I felt was somehow growing into a feeling of hurt. I get those little pinches in my chest whenever you tell me how you plan on asking her for a date or when you name those imperfections she had but you still love her despite that.
I became your confidante, your diary of wasted time and effort for her, and your ever-so supportive adviser and sometimes, reality-slapper.
You always tried to be with her but all those attempts turned futile. She always had reasons. She always turned you down. Somehow, I get what she was trying to tell you. I told you it was her way of telling you to stop, that you won't have that chance that you wanted. You even asked for signs but it yielded negative. Yet you chose to ignore them.
ADVERTISEMENT - CONTINUE READING BELOW
Do you know how much it equally pains me when you tell me that you're hurt every time she turns you down? If I could just be with you and hug you every single late night that you tell me those stories, I would do it in a heartbeat. If I could just take even half the pain of what you're feeling, I would willingly take it. All those things that you wanted to do and experience with her, I'd be more than willing to capture every moment with you. And the way you wanted her to fall for you?
I would happily make that blind leap and take the free fall with and for you.
Why do you have to keep running towards her when every single step, you just take yourself straight into a dead end? Why don't you just turn your back and see me waiting for you at the opposite end? Why is it that after all those times that she wounded you, it's still her? And why is it that after all those times I've been there for you, you never even took a single glance at me?
ADVERTISEMENT - CONTINUE READING BELOW
I will have to say that it is by far one the best decisions I have made in my whole life.
Isa is part of Candy Rookies 2020, a group of influential and aspirational college students handpicked to represent #GenerationCandy in the year to come.
It's the best time to pick up a new hobby and put those notebooks to use.
We can't handle this breakup!
For days when you need an instant outfit inspo that's still campus-appropriate.
It could very well be one of the world's largest volcanoes.
From consistently badmouthing another friend behind their backs to making snide comments sneakily disguised as compliments, here's how to deal with a tricky friendship.
From sisig to bulalo, the North has a lot to offer.
Even college students like us can apply for freelance creative jobs while we're still going for that diploma!
These simple practices, when done consistently, end up being worth a lot.
It can actually *shatter* your cartilage.
Bordeos becomes meat of online talk while helping out in family's meat business.