Candy Feels
From Our Readers: To the Guy Who Came Back
I thought I have moved on, but you came back and I knew then that I hadn't.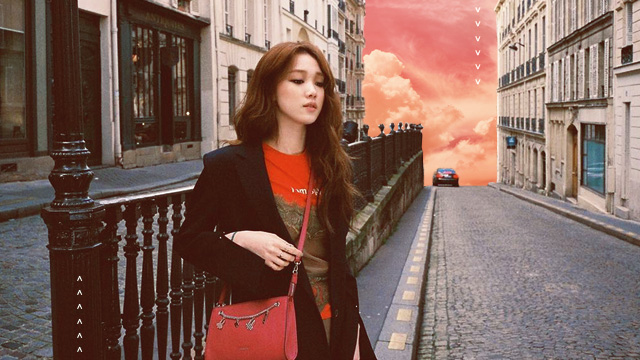 PHOTO Lee Sung Kyung | instagram.com/heybiblee ART Clare Magno
We did not say our goodbyes, but we knew it was inevitable. We decided to go our own separate ways, and I tried so hard not to stop you from leaving.
At first, it was hard. It was so hard to stay away from you when we saw each other at school every day, when we were classmates in most classes, and when we had the same circle of friends. It was so hard to stay away but I knew I had to keep my distance because you already did. There were moments when I would lie awake at night and check on my phone, somehow knowing at the back of my mind that I will no longer receive those messages from you at 3AM. Sometimes, I glance at the door during one of my classes because I was kind of hoping that just like before, you'd pass by and wink at me when you see me looking out the door.
It was so hard to stay away but I knew I had to keep my distance because you already did.
Sometimes, I forget that things are no longer the same. We had become so different from the way we were before. I tried to forget. I tried not to look your way. I tried not to bump into you in the halls, in the cafeteria, or in the shed. I tried not to check your social media accounts. I tried not to hang out with our circle on Fridays. I tried not to stalk you online. I even tried deleting those old conversations just so I could stop myself from reading them over and over again.
ADVERTISEMENT - CONTINUE READING BELOW
I tried, and I could say I was doing a great job at forgetting you, at forgetting us.
And then on one fateful 3AM, you sent me a text message that changed the entire game. You told me that you want me back. You want us back. You want to try again. You were hurt, but you were willing to take the risk and be with me again.
Did you even know how selfish that sounded? We both got hurt. Shouldn't you have asked first if I was willing to take the risk and give you the chance to break my heart again? I was doing a great job at forgetting you, but you come back and now I'm back at square one again. All those efforts of trying to forget you were all very futile. All the memories of the moments I shared with you came rushing back and I wonder if I had even moved on at all or was I just lying to myself all these days I thought I was okay?
ADVERTISEMENT - CONTINUE READING BELOW
Now you're back, and for the sake of my heart, I don't even know whether I should believe you and take the risk, or turn my back and just continue moving on.
For instance, UP MBS welcomes students from any university, college graduates, and even professionals!
From the master crammer to the sleeping beauty.
Do you thrive on working late nights and dread waking up early to get to school?
The student-artist talks about how he got started on portraiture and food art, his most memorable piece, and his advice to fellow student-artists.
For the third time, University of Sto. Tomas ranked first in an independent survey on the best psychology schools in the country.
"Psychology major ka? Sige nga, can you read my mind?"
Before you commit to your first ink, you might want to consider these things first.
Truth is, there's a chance your college major won't be entirely related to your career path.
There are some things we wish we would've done differently in high school.
It's in the world's natural order for people to make blunders and fail, so don't be too hard on yourself when things don't go your way.