Candy Feels
From Our Readers: To the Girl Who Keeps on Trying
Please love yourself because you deserve your own love.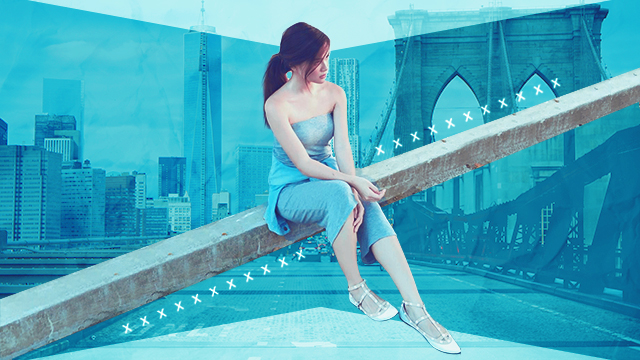 PHOTO Elisse Joson | instagram.com/elissejosonn ART Naomi Torrecampo
You don't need to be sorry for being like that. If they think that you're difficult to understand or if they told you that you're weird and different, then leave them be. You don't need to change. There's no need for you to fit in because you're not meant to be in a container, trying hard to turn yourself into the shape that you're not. You should be set free because it's your destiny to fly. Stop listening to other people's voices and listen to your own melody.
You should be set free because it's your destiny to fly.
You don't need anyone to fix you because you're not broken but if in case you are, if you are shattered down to your last bits, then let me remind you that you're the only one capable of building yourself up again. Pick your pieces and put them all back to their right places because you can.
Don't wait for anyone to complete you because you already are a whole. You're already fine just the way you are. And all of your scars are as beautiful as the sky full of stars. Let me tell you once again, that you don't need anyone to compliment you, because even without anyone telling you that. You're already beautiful in your own unique way, in a way that no one else can be.
ADVERTISEMENT - CONTINUE READING BELOW
So stop trying to change into someone you're not. Please love yourself because you deserve your own love.
It's time for you to see the beauty within you and what's inside you. The doors to your heart are always open. You should discover the wonders of your own existence not through other people's eyes but through yours.
You are and you will always be a lovely one.
Think of astrology as a language that helps you feel and be seen.
Franki and Diana are this month's Eye Candy.
It's like seeing Seo Dan and Seung-joon all over again!
The internet seems to love his lighthearted humor during these troubling times.
Many of our favorite K-drama actors right now actually started out as idols!
Thailand rethinks its elephant strategy.
Who else wants a basket full of mojos?
We're hoping to see more of these in different LGUs!
Sometimes, no matter how hard you try, some people just won't vibe with you, and that's totally fine.
Have you tried the #ComeAroundMeChallenge?
The cheerleading docu-series is a phenomenon.