Candy Feels
From Our Readers: To All the Boys I've Had a Crush On
Inspired by Jenny Han's novel To All the Boys I've Loved Before.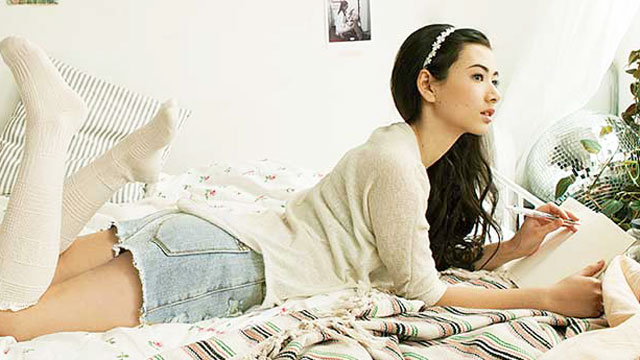 PHOTO Simon & Schuster Books for Young Readers
Having crushes will always be one of our fondest memories from when we were still a student. Whether you admit it or not, we talk about them endlessly with our friends. At times, we even meet in our school cafeteria just to ogle over the campus cuties that pass by. We cannot admire them explicitly, as much as we want to.
There's this feeling that you want to appreciate them, but you stop yourself for one or all of these reasons: He won't appreciate it, he has a girlfriend, we're just not brave enough. I can relate most to the last one. Graduation day is imminent. Now that it's almost here, I think it's just right to say thank you and goodbye to all the guys that made my studying years special.
To the guy who has the nicest nose.
We weren't close during the first two years of high school. You were always picking on me, making fun of me. I didn't know what happened during our third year; all of a sudden, you became very friendly towards me. Not that I didn't like it, but it's just quite odd to think that you liked me. And that's the start of our burgeoning friendship. I was surprised to know you were kind, that's why I admired you.
ADVERTISEMENT - CONTINUE READING BELOW
Years have passed and you remained as that same guy I knew. Thank you for all the fond memories, for speaking to me with that husky voice of yours, and for being such a good friend.
To the obnoxious guy.
My first year of college was blissful because of you. But whatever happened, I don't know. You just don't have that good attitude to create a full package of one ideal guy. Yet you still made me admire you. You have the wit and spontaneity.
We're going to graduate already. Together! Thank you for those little chats we had when you were kind, something rare for someone like you, and for being a part of my chaotic college years.
To the guy who made history.
I read somewhere that if you had a crush for someone for more than four months, it's love. So is what I feel for you considered love? You made history. You have been my crush for three years.
ADVERTISEMENT - CONTINUE READING BELOW
You have grown to be so handsome. It's still vivid on my mind how we saw each other again. You went down the jeepney, with the wind blowing your hair. I was in in awe. I asked you on Facebook if you stillm knew me; you just seenzoned me. Sad, but I still love you.
Just let me say thank you for those three years of letting me admire you from afar, for allowing me to stalk your Instagram. Most of all, thank you for making me feel jealous because of your girlfriend, even if I didn't have the right to.
I might not be a Lara Jean who ended up with his own Peter. They might not know they are my own version of John Ambrose, Josh, and Peter, but at least, even if this piece is not on a paper hidden in a teal blue box, their part in my life would always be remembered. Always and forever.
ADVERTISEMENT - CONTINUE READING BELOW
P.S. I still have crush in y'all.
Fast cars and dark roads don't mix.
BTS' agency already made the official announcement.
The deep red lipstick shade flatters all skin tones!
The 19-year-old dancer also appeared in the music video and on Jimmy Fallon's show along with her dance crew The Lab!
This is straight out of a teleserye!
It'll be available in five cute colors!
Sometimes, it only takes a few simple additions to brighten up your area and inspire you to stay productive.
Aside from IU, heavyweight groups like BTS, BLACKPINK, TWICE, and BIGBANG are also on the list!
Both the shop and its drinks are too pink and pretty!