Candy Feels
From Our Readers: The Letter You'll Send Me Someday
I know I didn't fight hard enough to make you stay.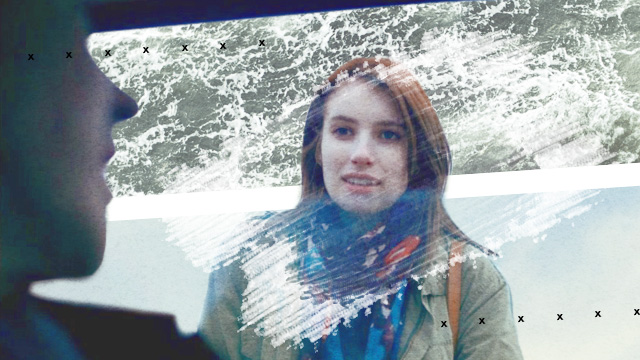 PHOTO IFC Films ART Clare Magno
Love, 
It's been a while since I last saw you. I haven't heard from you, but I guess I'm still lucky that we're in the same circle still because I still get to hear news about you. I'm happy that you're able to smile again after I broke your heart. 
I heard you're very happy now, the kind that's refreshing. I've actually seen you in that same corner, our meeting place back in high school. I've seen you standing with a phone in hand and a bag in your arm, a certain glow on your face—one that I've never been lucky to see before. My chest ached a little at the sight of you, completely happy. 
Then I saw him. He pulled up, got out of the car, kissed your cheek, and opened the door for you. My heart ached for the second time. I stopped, dead in my tracks. I couldn't move. My feet were planted in that spot. 
ADVERTISEMENT - CONTINUE READING BELOW
That was the moment I realized it was you all along. It was you, two years ago, who never left my side even if I gave you more than enough reasons to leave. It was you who loved me at my worst, who still loved me even if I was busy flirting with meaningless girls. It was you who never stopped undestanding me. You never got tired of giving me chances after chances. It was you, the one I was foolish enough to let go.
CONTINUE READING BELOW
Recommended Videos
But I hope you're genuinely happy. I hope he knows how to say sorry and really mean it. I hope he doesn't get irritated when you get clingy. I hope he takes you out to dinner because you love trying new things. I hope he always fetches you at school and eats your favorite cheeseburger with you. I hope he lets you win a Tekken fight. I hope he doesn't leave you early on your anniversary date just to go somewhere else. I hope he never wastes his chance of being with you, because being with you is the most magical thing that could happen to any guy.
ADVERTISEMENT - CONTINUE READING BELOW
Trust me, I know. I was just this foolish guy who wasted my chance with a girl as precious as you are because I was coward to own up to my mistakes.
As cliche as this sounds, I learned things the hard way—to go after a speck of dust when I already had a diamond in my hands who was willing to give me anything and everything. I'm sorry. I'm sorry if I hadn't fought hard enough to make you stay. I'm sorry for all my shortcomings. I hope he makes up for my mistakes, because you deserve everything good in this world.
I love you and I always will.
In college, your course doesn't necessarily indicate the industry you'll find yourself in after graduation.
WATCH: Issa BOP: 'Best Of' Playlist episode one!
It's part of their LGU's Basic Education Learning Continuity Plan.
She got the attention of their mayor, Vico Sotto.
As traditional universities adjust to their new normal, there are schools that have made the transition years ago.
We can't stop looking at them!
The two are also starring in a new ~virtual~ drama together!
And the classic way he announces class suspensions in Manila.
Once upon a time, they're just like us.
From snail mucin to yeast.
No one expected it to end this way.
From The Candy Bulletin Community