Candy Feels
From Our Readers: Is There Even a 1% Chance That You'll Like Me Too?
You're on the other side of the locked door that I can't open.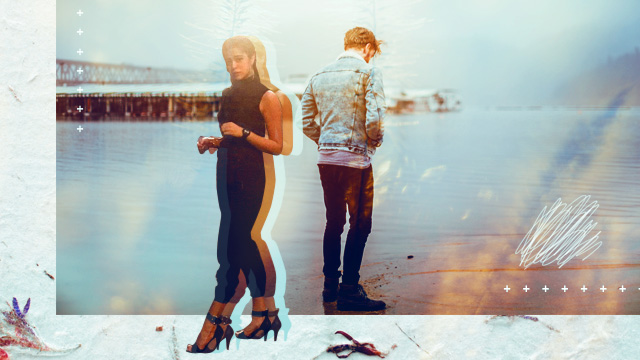 PHOTO Sue Ramirez | instagram.com/sueannadoodles ART Clare Magno
In this land full of uniqueness, I am digging deeper to search for one, just one similarity we might have. I am trying to look for something we have in common that will make me say we really are meant to be.
I am hopeful that there's a particular thing that will connect our lost souls and hearts that have been searching too long for the right one.
There is something in your eyes that I found very mysterious like a riddle and it makes me want to solve it. I am looking for answers everywhere because you're the only person I can't read just by one glance. You're like a book with infinite pages that will take an entire eternity to finish. But still, I want to be in your world and look for esoteric feelings. I can't even understand myself why I have this kind of concept of you. It's just that every time I look at you, I see myself in a dark cabin looking for the lost puzzle piece that will complete and reveal who you really are.
ADVERTISEMENT - CONTINUE READING BELOW
Your mind can collect a thousand thoughts and that makes me admire you more. You're a talking book, a walking dictionary. You're a library and I want to read all your books. Your sophistication in almost everything reminds me of the Roman god, Thoth. You can survive every field you'll be put into because you possesses great knowledge within you. You can sing and your voice is music to my ears. You're gifted with various talents that really suit you. Many praise you but you remained humble. You don't brag about your achievements and that amazes me.
Your face is a living image of Eros. The fierceness of your features challenge me to give that face a smile. Because every time you smile, the world turns a bit brighter. A very powerful smile that can change a one's mood for a day. If my eyes can be a camera, my memory wouldn't be enough to save all the glances and moments with you. You also have a good sense of fashion because every time you pass by, every person looks your way.
ADVERTISEMENT - CONTINUE READING BELOW
You are the grand prize that everyone's willing fighting over. And I am one of the participants in this game called How to Reach You.
Doves fight over your attention, so who am I to win this? I am just an ugly duckling who can't pass your standards. I'm pretty sure you're not going to choose the girl who's not that beautiful. The handsomeness chose you and you must also choose the girl Aphrodite would be proud of.
How can I get even just 1% percent of a chance to win the grand prize, to win you? 
I dig too much to find our similarities but you're really just beyond the limit. We are opposites and antonyms that can never fit together. I don't believe that opposites attract because we could've happened if those statements were true. I am on Earth and you are beyond the sky together with the other stars that I can't reach. I'm the fisherman and you are the fish. In this wide ocean, I can't catch you. You're on the other side of the locked door that I can't open.
I guess that I am really just reaching out to someone unreachable, someone I don't stand a chance with. There's no way I could win this game. But even so, I still want to solve the mystery. I still want to unlock your locked cabin of secrets.
ADVERTISEMENT - CONTINUE READING BELOW
If I can't make you my lover, please just let me be your friend.
All you need is coffee, hot water, and milk sugar is optional!
What's your best and worst trait as a friend?
Stock your freezer with your all-time Jollibee favorites!
Make the most out of your time in self-quarantine!
It's okay to take it slow.
Are you ready to elect the next Philippine president?
A lot of them are apps we haven't heard of before.
We're sure you've seen portraits on your feed.
Some good news to start your day off!