Candy Feels
From Our Readers: A Letter from All the Fangirls of the World
You are not aware of my existence, and yet I still chose to love you.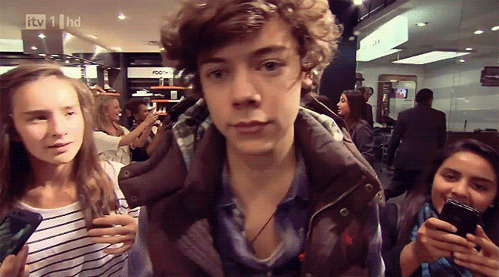 GIF Fanpop
Dearest sunshine,
Hi, love! How are you? Have you been eating in time? Did you sleep well last night? How's your schedule? Hectic, eh? Where are you? Are you having fun at this point in time? Well, how would I even know?
I won't even bother introducing myself to you because there's no chance for you to read this letter. I am 100% sure that you won't be able to remember a single word. So it's no use whether I tell you my name or not. It really doesn't matter if you don't know where I live, or what hobbies I like, or any remarkable feature that I have. That's fine bye me.
But it's funny that I know all these facts about you. Your name, your birthday, your home address, even your blood type. I know that you are 171cm tall and you weigh 61kg. I know that you have this habit of exclaiming, "Mommy!" even though you're already 21 years old. I know the things you like and dislike. You don't wear shirts with short sleeves. They annoy you. You want teleportation as your superpower.
ADVERTISEMENT - CONTINUE READING BELOW
I know what bothers you when you're performing on stage. I know your struggles when practicing for your new choreography, and your difficulty of hitting a few notes in your songs. I know the moments that make you cry like a baby. I know the names of your parents, your older brother, your favorite cousin and also the names of your pets. I have memorized your way of dressing from head to foot. You don't like gold accessories. I know how much you love riding bikes and playing basketball. 
CONTINUE READING BELOW
Recommended Videos
I know all of these things about you and yet, you don't even know who I am or that I exist.
But it's okay, love. You don't have to know me. Because that's the cost of this. I try to save most of my allowance to buy your newest album. I stay up late to watch your videos on YouTube. I even camp out at your concert's venue just to secure good seats. I believe that I didn't choose the fangirl life. The fangirl life chose me.
ADVERTISEMENT - CONTINUE READING BELOW
I have learned the realities of being a fangirl. It's hard. But you know what's the hardest part? It's when I started falling in love with you not as an idol, but as a person. It may sound delusional but sometimes, I still think we might end up together. I will never, ever get tired of cheering for you, screaming your name at the top of my lungs, and singing your songs like it's the only thing I know.
But I'm tired of getting my hopes up. Even though we breathe the same air and we are under the same sky, I know that we'll never be together. Even though, they say that nothing is impossible if you just keep chasing your dreams, I know that that's not always be the case. And it breaks my heart whenever I think of you getting ending up with someone else. With someone that will make you feel the way I feel for you.
ADVERTISEMENT - CONTINUE READING BELOW
I hope you know that despite being your fangirl, I would also love to have someone to hold me for real. I want someone who would also cherish me for who I am. I want someone who could return all the feelings I give. I want someone who will take me by the hand to show the world what love and happiness are made of.
So if I forget you one day because of another guy, please forgive me. I hope you understand that you'll always have a very special part in my heart. I want you to know that I love you and I care for you. I wish you all the happiness in the world. And I pray to God that you'll always be successful in your chosen profession. I hope someday, I'll be able to accept the fact that you will always be out of my reach. Thank you, love, for being my motivation, and my inspiration. Thank you for being the reason why I dream. Thank you, because once upon a time you were my everything. 
ADVERTISEMENT - CONTINUE READING BELOW
Always,
Just a fangirl in a sea of millions
Facebook is allegedly collecting unauthorized data for market research.
They'll fit right into your #aesthetic home study area!
From light-hearted rom-coms to musicals.
She's set to star as the young Gabbie Salazar, originally played by Shaina.
We're keeping her tips in mind!
Proof that Ivana has a heart of gold.
Pagdating sa skincare, stick to one ba dapat?
In the public eye, at least! As Janella once said, "Masaya but I just don't want to share a lot."
It aims to help 500 jeepney drivers from Rizal.
Pretty sure you already have it!
From The Candy Bulletin Community