Candy Feels
5 Reasons Why We Feel Terrified of Graduating
Change is indeed coming.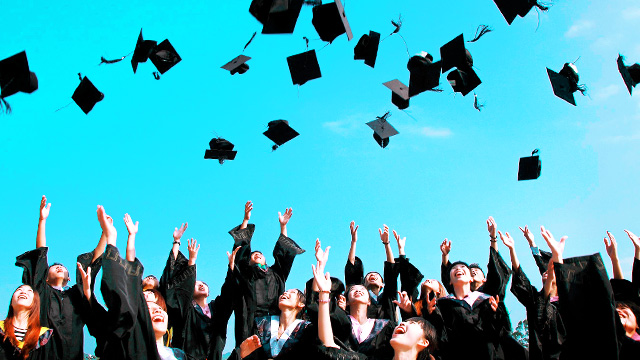 Pexels
Here it is! The most awaited time of our lives; it's when we get to toss our graduation caps high up in the air, feeling as free because we feel like we've never really been free. But despite the complete happiness and excitement surging in our bodies, we can't help but feel scared of what might come after we graduate.
Are we going to land a good job? Are we going to be the person we've always wanted to be? There are hundreds of questions floating in our minds, but I've trimmed them down to five reasons why we all feel terrified of graduating: 
Change is coming.
Change is coming, and we are all afraid of change. The very word itself freaks us out. We aren't contented with where we are at the moment, but we are afraid to leave our comfort zones. We're saying goodbye as well to having happy late nights with friends, to constant partying on a Friday night. A lot of things will be gone when we enter this new chapter in our lives. We will all be starting from scratch and that's terrifying.
ADVERTISEMENT - CONTINUE READING BELOW
We are unprepared to enter the "real world."
I'm not saying that college life is akin to Neverland where everything seems perfect. By real world, I mean ~~adulthood~~. Most of us think that we all have reached adulthood by the time we enter college, but we're wrong. We may have reached that at one point, but not entirely. Adulthood starts after college. It's when the real journey begins. It's the time where we all have brace ourselves and face all the problems on our own.
We're undecided of what we should do next.
In college, everything is laid out on the table. We just have to figure out which comes first. It's all about setting priorities. I know for a fact that most of us haven't mastered setting our priorities straight and worst, we have no idea what to do unless everything is laid out in front of us. We are at the point of weighing which best suits us. We want one thing at first and then all of sudden, things change. We are scared to make a move because we are not confident enough to see the result. Instead, we opt to imitate others rather than making a move for ourselves.
ADVERTISEMENT - CONTINUE READING BELOW
Saying goodbye is hard.
They say that the best people you meet are the ones we meet in college. We can all agree to that and saying goodbye is the last thing we would all want to do. Aside from friends, teachers, and other significant people in college, we also have to say goodbye to student discounts when commuting. Aww!
We are afraid because everyone else is.
Don't we all get scared when everybody else is? It's domino effect. Others get terrified and we choose to get terrified as well. But don't worry because an end is also a new beginning! Good luck to all graduates of 2017 and may we all enjoy this new chapter of our lives! Cheers to better lives!
Carlos Yulo, Filipino gymnastics superstar, comes from humble beginnings.
Knowing how to operate a vehicle is a good ~adulting~ skill to have.
Tom Riddle's diary not included.
They even beat this generation's music legends Taylor Swift and Ed Sheeran!
"You both acknowledge that growing individually doesn't mean growing apart."
Wait... she has a sister?!
Even the optional plastic bags in supermarkets.
"She's like my sister," Jacob shares.
Not too keen on blinding your prof with a very extra highlight? This Claudia Sulewski-approved trick might help.
GLG holds various workshops for the different aspects of comic making, like writing, storyboarding, drawing, coloring, and paneling.
Merry Christmas, K-drama fans!
The official opening of the 2019 SEA Games was graced by none other than Filipino Olympian gold medalists we used to read about in grade school textbooks!