Candy Feels
Candy Reader Poetry: I Wish I Lived in This Other World I Created
Just away from reality.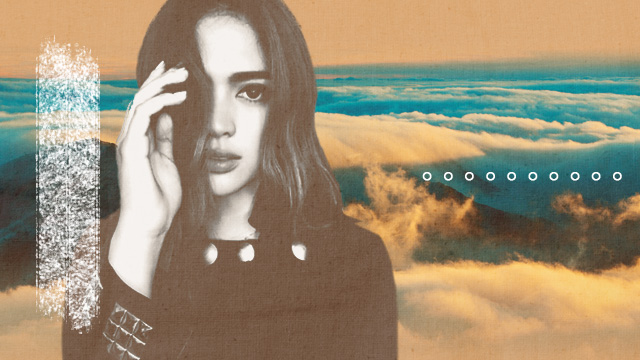 PHOTO Sofia Andres | instagram.com/iamsofiaandres ART Clare Magno
Who says that when you close your eyes, all you can see is black
Because for me, that's totally not the case.
When I close my eyes, a new world appears
Full of colors and away from reality
New friends are there for me
Unlike in reality where they're always breaking me.
I see shadows of unnamed people,
And an inexplicable happiness just by being here,
Making me smile out of the vacuum between us
All made up of glitters and dust.
No scratches and sorrows of the past
No voices dictating me about my life
I'm creating memories I hope will last
All smiles as I'm rewriting my own past.
But behind those joys, there's a fear inside this little girl
She's afraid that when she opens her eyes,
She will see darkness after the glow of her other world
Darkness from people's endless judgements
She's afraid of the people she knew who treat her so little
Like she's just a speck of dust in this galaxy we live in
She's afraid that nobody will like her
Afraid that this world will let her be alone
This world is cruel
Always breaking the dreams of that little girl
Now she's on her way to recovery
Facing the world again, even when she is shattered deep inside
The little girl's hoping
That she'll be treated as the girl in her own world
No one interrupting as she goes on and dreams
Now I close my eyes and be the little girl I've been in the world I created.
\\\\\\\\\\\\\\\\\\\\\\\\\\\\\\\\\\\\\\\\\\\\\\\\\\\\\\\\\\\\\\\\\\
Get the latest updates from candy!
subscribe to our newsletter!
////////////////////////////////////////////////////////////////
Skip a makeup step with these beauty goodies!
Take pretty notes and study effectively with these tips!
Wait for a love like this. A love that is good to you, for you.
Are you up for this challenge?
Can't wait to see the actual gowns!
The up-and-coming musicians and childhood friends talk about their music, creative process, and why it's important to be woke.
Because when it comes to a great lip game, there's really no need to splurge!
A different language sheds new light on everyday terms.