Candy Bulletin
What it feels like to be a 'PROMDI' girl?
why do I need to go to another places...
What it feels like to be a PROMDI girl?
Most of my age, we want to explore, we want to go to the city and left what's life in the province. We are eagered to test our self, to prove our self that we can, that we can conquer the world. We think that if we left our lives in the province we can only achieve our goals in the city.
As I observed, most Filipinos go to city because they mostly say that "in city, we have a chance to change our life". That's what they want to picture in their minds minds, but that's not applicable in all of us. As a fresh graduate, I admit that I want to explore the world as much as others want. I want to have a stable job, give back to my parents and go beyond my limits. That's my picturesque idea of what I want to my life but suddenly this pandemic explode and all of our plans have been freeze out. It made us feel numb of what we can do, a smaller room for all of us, that we need to be in this small room for a significant amount of time.
That's what pandemic brings us, a massive explosion that all of us don't expect that it would come. Being born from the province is the greatest blessing god has given to me. Fresh air, free food, relaxing scene and the sound of palm leaves when the air from the sea hits it. I admit that I was once imagine that I am working in this place, I imagine on how long will I be able to stay here, with those big pretty lights in the evening and full of high buildings in which I can't see the top, where you can inhale the air just like what the car emits, I suddenly stop thinking right at that moment and I said I can't stay here for long term, all of food have a price, where you can usually get that in the province for free (just talk first to the owner if it's not yours).
In province, we don't usually use huge amount of money just to buy foods for consumption, for Php 100.00 we have a meal for lunch and dinner, sometimes vendors adds additional fruits or vegetables when you buy to them often. The scenic places are priceless, you can go there any time you want to relax with no fee or maybe a small amount of fee and then you can enjoy the place. After that realization I came to the conclusion that, why do I need to go to another places if I can achieve my goals here in my own province?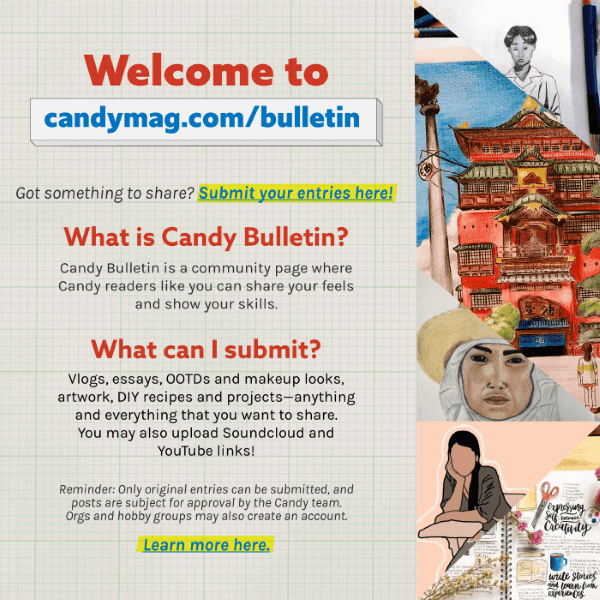 VIEW MORE
Loading Comments

Hide comments
From The Candy Bulletin Community