Candy Bulletin
Ultimate Pursuit of Life
The ultimate pursuit of life isn't about becoming someone else or gaining something.
With the movies "Princess Switch" and its sequel "Princess Switch: Switched Again" trending on Netflix, we re-lived all our wishful thinkings of becoming someone else and changing our own lives. The stories of Lady Margaret Dela Court, the duchess who seems to have a perfect life, but longs for the ordinary and Stacy De Novo, who has a stable, normal and happy life felt like she's missing something, are the stories that we can really relate. How we wished we can switch lives with other people and our struggle to put together our pieces of puzzles. And as these two journeys in discovering what they really want in life, we also ask these questions for ourselves, What is my life's pursuit? What are the things that make me truly happy? What is my meaning and my motivation?
There are people who would say it's their work. Job title somehow gives people an identity. They are striving for a good career and good income as well. To the young people, some would say their studies. Becoming top student is a priority. Making their parents proud would make them feel happy. Some would say it is their relationship that gives their life meaning and perspective. Or for those that are single, they are really longing and wanting that "relationship goals". And others would simply say it's money that they want or life status is what really matters.
But then again, ask yourself, what is it that will make your life worthwhile and ultimately happy? Is it your thousands or millions in bank account? Is it your achievements? Or is it your relationships with your family and loved ones? Your passions? The lives of others that you have positively affected in some way? A lot of times we define our life based on grand things that we can acquire and on status that we obtain. We struggled to find meaning because we are thinking of changing the whole world and we're much focused on doing the "big things". Most of the time we envy others and we constantly compare ourselves to them. And we find ourselves in the corner wishing for a genie to pop up and grant our biggest what ifs, "What if I can do what he/she can do?" "What if I have what he/she has?" "What if I could switch life with him/her?" We asked these questions firmly believing that those would make us happy.
The ultimate pursuit of life isn't about becoming someone else or gaining something, it's LOVE. If you choose to live your life loving genuinely and truly and being loved in return, wouldn't you feel fulfilled? Love yourself by taking care of yourself. Do your passions freely. Try out new things. Discover more about yourself. Love your family by being patient and understanding and giving. Be that reliable ate or the supportive kuya. Be that child who has the biggest heart. Love others. Be kind to people. Be willing to listen. Be you. Chase your own dreams. Be with the people who love you with all the good and the bad. Share whatever you can give selflessly.
Whether you try to help the whole community or inspire one person or what you have is more or less, what matters is if you do things with love and for love. So no need to pressure yourself or listen to what the world dictates. Hope we'll never wish to switch lives with others but decide to pursue love above all else.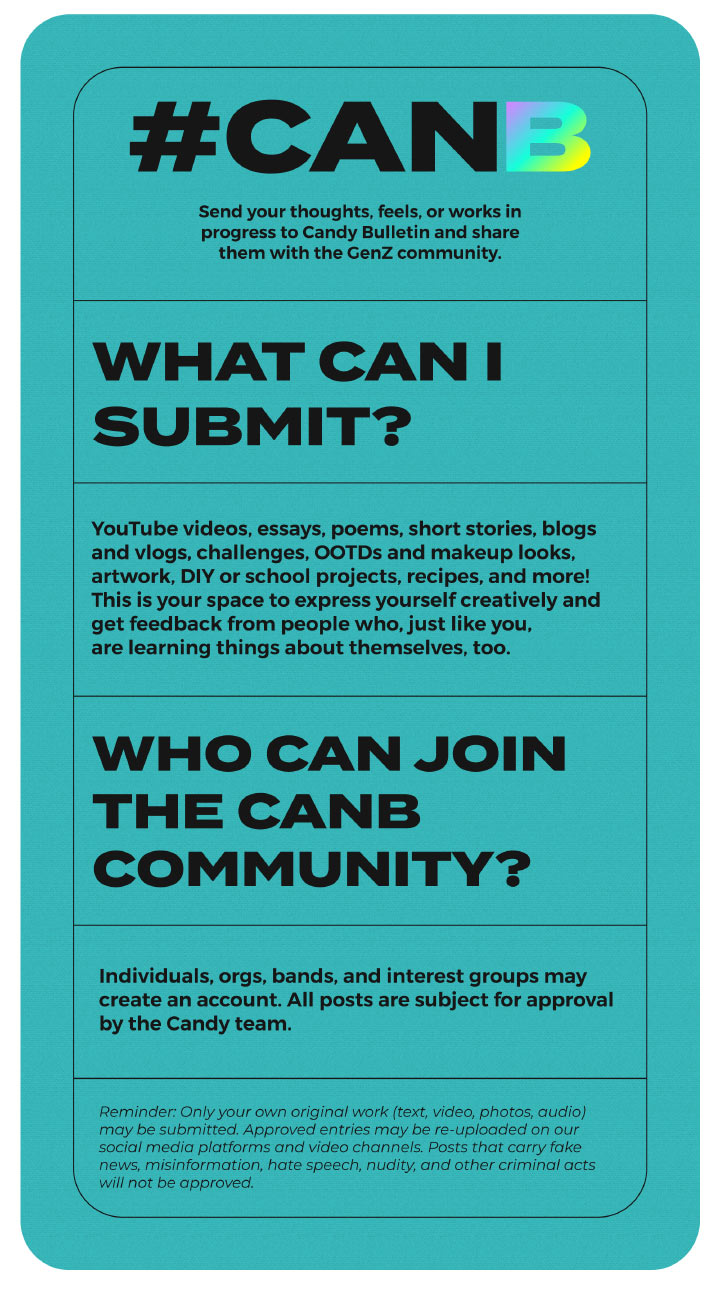 VIEW MORE
Loading Comments

Hide comments
From The Candy Bulletin Community