Candy Bulletin
To the Person Who Does Not Know Any 1D Song
The group may be in hiatus but their music is and will always remain superior.
To the Person Who Does Not Know Any 1D Song
By: CJ Reyno
Never in my wildest dream I imagined to meet someone who does not know a single One Direction song or who does not even know, Harry Styles, Louis Tomlinson, Liam Payne, Niall Horan, and err… Zayn Malik. How did you spend your teenagehood without listening to their songs? The disrespect to my #StyPayHorLikSon. My initial reaction, Vas Happenin'?
Since I was 12 years old, that was way back on 2012, One Direction songs have been my official life soundtrip, my go-to songs whenever I feel happy, sad, mad, excited, and etch. I can still remember how people went crazy just to attend their concert here in the Philippines. I must admit, I was one of those. LOL. The group was also dubbed as, "The Biggest Boyband in the World". They were an era. You really left me in awe when you told me that you do not know a single One Direction song. Their songs are gold. But I was a little hopeful when a new messaged popped up on our conversation, "Hey I know one, Make You Beautiful".
You do not know how my world collapsed after reading your message. I would like to say that I appreciate the effort, thanks, but they do not have a song entitled, Make You Beautiful, because it is, What Makes You Beautiful. I tried to explain but you said that they are just the same. (Tip: Never fight with a Directioner when it comes to this because we will not let our guards down). No! They are not the same. How can you make this big mistake? LOL. What Makes You Beautiful is One Direction's debut song. Almost everyone knows this, "you're insecure, don't know what for," ring a bell? The music video of this surpassed 1 billion views on Youtube. On my 21 years of existence, you are the very first person who told me this "I-Thought-It-Was-A-Joke-But-You-Are-Serious" statement.
As a persuasive fangirl, I thought to myself that I should make you appreciate their music, that you should know that it is What Makes You Beautiful, not Make You Beautiful. The group may be in hiatus but their music is and will always remain superior. You are hard-headed lad. We even when to the point where you challenged me to treat so I can make you watch their music video. Am I even surprised that I agreed to this? HAHA. I feel like an agent trying to persuade her customer to buy a property on our company. You do not know how happy I was when you sent me your video listening to What Makes You Beautiful. I felt like I successfully closed a deal with my client. Not to exaggerate but I really jumped because of happiness after watching your video. It was the first message I checked that morning. Thank you for your effort, so much appreciated. Funny how our conversation starts with your innocence on One Direction until it goes deeper and last longer. Up All Nigh conversations which turned to almost Midnight Memories. Ironic how a Directioner had developed an admiration on someone who dislikes her favorite boys? Just like One Direction's song, Change My Mind, "Never felt like this before. Are we friends or are we more?" I guess, like Liam's line on Love You Goodbye, "It's inevitable everything that's good comes to an end. It's impossible to know if after this we can still be friends."
I was happy that I made you listen to One Direction. At least I made you appreciate and made you aware that there is a song called, What Makes You Beautiful, not Make You Beautiful. I am happy that you already found your Girl Almighty. Wish me luck on finding my Summer Love. xoxo, Your Directioner friend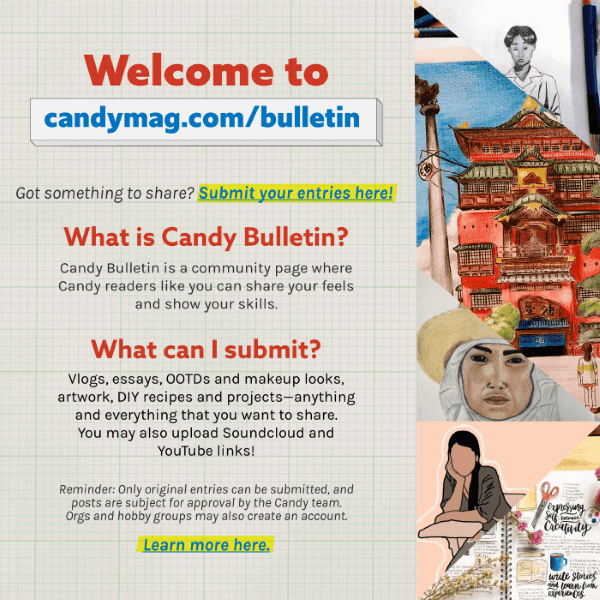 VIEW MORE
Loading Comments

Hide comments
From The Candy Bulletin Community