Candy Bulletin
To the girl who loves Ben&Ben
Their songs became part of your routine, it's like the OST of your life.
It was the year 2017 when you stumbled upon a random YouTube video of a song, it was one of the most beautiful songs that you ever heard. The feeling was unexplainable, no words match what you felt that night and the heart full of worries and heavy baggage was suddenly gone.
Leaves will soon grow from the bareness of trees / And all will be alright in time / From waves overgrown come the calmest of seas / And all will be alright in time ("Leaves" by Ben&Ben)
These lyrics made you believe that life might get a little bitter and a little rainy but you just gotta trust yourself that good days are about to come. You might feel a little blue but trust me, everything will be alright in time.
As years pass by, you became a fan. Their songs became part of your routine, it's like the OST of your life. You find yourself listening to their songs while you are on the train, waiting for your professor to arrive, and while you are on the bus trying to look like a girl in a music video. Again, a song captured your heart. It reminds you of bittersweet memories from your old crushes and the one-sided love that you are very used to.
Bawat Kilig na nadarama / Sa tuwing hawak ang 'yong kamay / Ito'y maling akala / Isang malaking sablay / Pasensya ka na / Sa mga kathang isip kong ito / Wari'y dala lang ng pagmamahal sa iyo / Ako'y gigising na / Sa panaginip kong ito / At sa wakas ay kusang lalayo sa iyo (lalayo a) ("Kathang Isip" by Ben&Ben)
These are the ones that hit your heart the most. You kinda feel sorry for assuming someone's action to be special but the thing is maybe, they are just kind and sweet. Maybe the "kiligs" are just really meant for that and not for a greater thing. But your OST will not end there. It is not always a sad ending and it will never be. The night is not really bad after all.
If you will look at the night sky, the stars keep on shining despite the darkness that keeps on surrounding them. Maybe the night holds a little hope for us, dear maybe we might want to settle down, just be near stay together here (Maybe The Night by Ben&Ben)
Maybe it is true, the night always holds a little touch of hope for us. Just like the moon and the stars, maybe we should love the night sky too. Life is not a linear graph. It always has its ups and downs, there will always be some bumps and stones that we will meet upon our journey. Do you remember when you failed your first quiz in college? You are about to give up and tell yourself that maybe this is what you are meant for.
Ilang beses man madapa't sumubsob / Kailanma'y gawing matatag ang iyong loob / Mga batikos huwag nang diringgin / Pakawalan lang yan sa hangin / Bukas ay malapit na ring dumating / Lumaban ka pa rin / Balikan kung bakit ba nagsimula / Bago mo sabihin na ayaw mo na / Huwag mong sosolohin / Di ka mag-isa / Ikaw pa rin ang susi sa pinto ng iyong tadhana ("Susi" by Ben&Ben)
These lyrics are the one you hold into during the tough times, when life seems so dull and when everything feels like falling apart. This song reminds you of one thing, "No matter how many people tell you that you can't, no matter how hard life is, you just gotta give yourself an endless chance to fight because, at the end of the day, you are the key to your success"
Who will forget how you get LSS to the next song. Remember when you got feelings and butterflies from your guy friend? You have no idea how to express it or maybe it is better if you will keep it to yourself as your little secret until you forget about it. But this song came up and it just explains everything you feel. The fear of getting caught because you are having all the feels when he held your hands, the fear of confrontation, and the fear of confession. Who says that the words you can't compose for yourself could be there in a song? Ben & Ben just proved that it could be.
'Pag nilahad ang damdamin / Sana di magbago ang pagtingin / Aminin ang mga lihim / Sana di magbago ang pagtingin (Pagtingin by Ben&Ben)
This song reminds you of a feeling that you cannot confess unless you are ready for rejection or a happy ending. Who knows? At last, you are able to watch them perform live. It was magical and a dream come true indeed. From the YouTube videos and Spotify to their live performance. Here's the thing, someday, the morning "sunrise" will always be there because you are finally happy. And maybe, someone will sing you the song "Araw-Araw" soon because they find you mahiwaga. Lastly, the "Ride home" is the one that suits you because you finally found your home.
Ben & Ben, thank you for the songs that you keep on making. It is also the sound of our heart and it became our buddy during our darkest days and the happiest ones. Hoping that after all these, I could finally watch your live performance again. Your songs became our home too.
Written by Rogelene E. Villanueva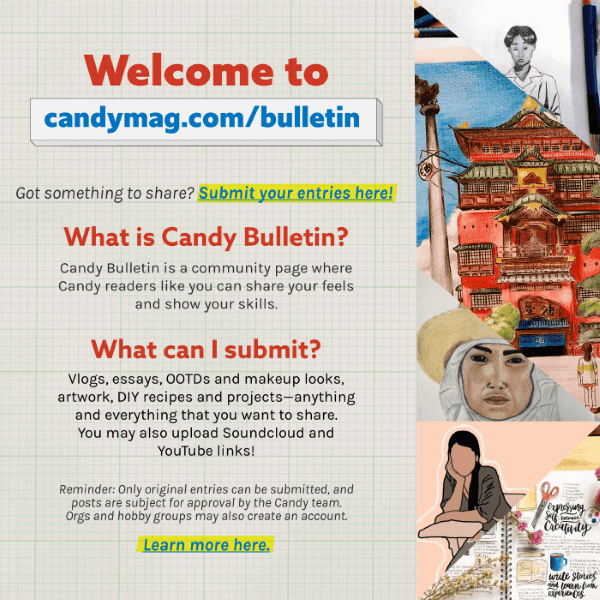 VIEW MORE
Loading Comments

Hide comments
From The Candy Bulletin Community