Candy Bulletin
"These K-dramas will inspire you to pursue your dreams no matter what"
A list of K-dramas about courage and pursuing dreams.
It's a list of Kdramas about courage and pursuing dreams. A spoiler-free insights also about these series and some words of encouragement.
Title: Feeling hopeless? These K-dramas will inspire you to muster up the courage to pursue your dreams no matter what
There are times that you question the paths life has led you. And most of the times, these are the moments when you get tired of chasing your dreams and on the brink of giving up. You have these thoughts, that's creeping into your mind saying; "Nothing is happening. This won't work. I'm never good enough. I'm too young. I'm too old. I'm lacking. I will never be able to do it. That's too big. It seems impossible." Or sometimes you're just plain worn out. Too exhausted to even think about your dreams. But despite of so many hardships, isn't it beautiful to still think "what does it mean to live the life of your dreams?"
Every once in a while, it's good to hear stories that could ignite our life once again. Here are the list of Kdramas that will inspire you to muster up the courage to pursue your dreams no matter what
1. DREAM HIGH
"There is a long way to go before your story comes to an end. So don't be anxious that things are taking longer for you. People who take their time getting to their dreams can see and experience more. And in my opinion it is those who take their time that will really make it big time in the end." -Kang Oh Hyuk
Aside from the excitement of having to watch an all star casts in one drama (Bae Suzy, Kim Soo Hyun, IU & Taecyeon) this series will also make your heart feel alive and hopeful. It's about teenagers, with different lives and talents, ended up in the same school, the Kirin Arts High School, an academy for aspiring singers, dancers and songwriters. As the students tried to learn their true potential to reach their aspirations, they will find themselves fighting their own weaknesses and struggling in the life so-called "competitions".
When you feel like you're stuck or being left behind, and see your friends and colleagues already achieved their goals, will you feel bitter and envious? Will you stop? Will you change your dreams? Or will you stop comparing and start working harder to improve yourself? Our lives unfold as they should be, at their own pace and on their own timeline. What's meant for us will arrive at the right time and for the right reasons. This is one of the life lessons you'll get to see in Dream High as each characters take their own steps to be in the spotlight.
2. FIGHT FOR MY WAY
"What were you doing with your time?"
"I earned money. While they went to study abroad and volunteer, I was earning money." -Choi, Ae-Ra
The story reveals a harsh truth about adulting life, about the younger generation who are not qualified for what the "perfect" society demands. Without backgrounds such as higher education and professional experience, the world tells them to just keep working on ordinary jobs. Fight For My Way is about Ae-Ra who is working an Information Desk Employee instead of living her life as an Announcer and her best friend Dong-Man who is working as Pest Control Employee instead of pursuing his dreams to become a Professional Mixed Martial Artist.
Truth as it may be, being privilege has a lot of perks. On the other hand, lacks of money limits a person's opportunity and sometimes it even lower a person's status. But because they have less doesn't mean they can't achieve anything. With the kind of life given to them, they learned to appreciate what they have and make the most out of it. Instead of complaining, they used this to motivate themselves to strive harder to accomplish what they really want. This drama will give you a slice of life as you found yourself rooting for the characters as they go after their dreams with vigor and fighting spirit.
3. ITAEWON CLASS
"I'm a rock. Go ahead and sear me. I won't budge an inch because I'm a rock. Go ahead and beat me up. I'm a solid rock. Go ahead and leave me in darkness. I'm a rock that will shine all alone. I don't break, ash, nor decay as I go against nature's way. I survive. I'm a diamond." -Diamond Poem by Gwang Jin
A past tragic life. Imprisonment. No family. That's enough reasons to give up on life, but not for Park Saeroyi. Itaewon Class narrates a story of overcoming darkness. It's a story of growth and patience. It tells you that life isn't supposed to be linear. It's not supposed to be a flat line of happiness and forever smiles. It is a constant surge of ups and downs and of twists and turns. It tells you that life wasn't meant to be easy. But it will also show you that failure will one day lead you to your destiny. That you need first to be broken in order to shine, to be crushed and pressured in order to transform.
Park Saeroyi will teach you how to fight your way back in life. Fall down seven times, and he will stand up eight. Ruin his dreams and he will show you he got backup plans. In this journey, he found friends that helped him build his dreams and make him a better person, just like in our own lives. People will come our way to encourage us, help us, teach us and support us.
In this drama, you will learn to cope up with fears of the unknown as you have people who will walk side by side with you until the end of the race. --- Whoever you are, whether you are in your teenage years, 20's or 30's, or whatever season you're in, whether you're starting another chapter of your life or you're closing another one, may your heart never ceased to hope and dream. If you get tired, it's okay to take a break and rest. Then get up the following day and start taking steps again toward your goals.
I know it's easier said than done. But I hope and pray that you find your motivations, your reasons, your purpose. I hope that you find the things that will ignite your heart and life to continue dreaming. P.S. The OSTs of these dramas will also inspire you and can give you major LSS ????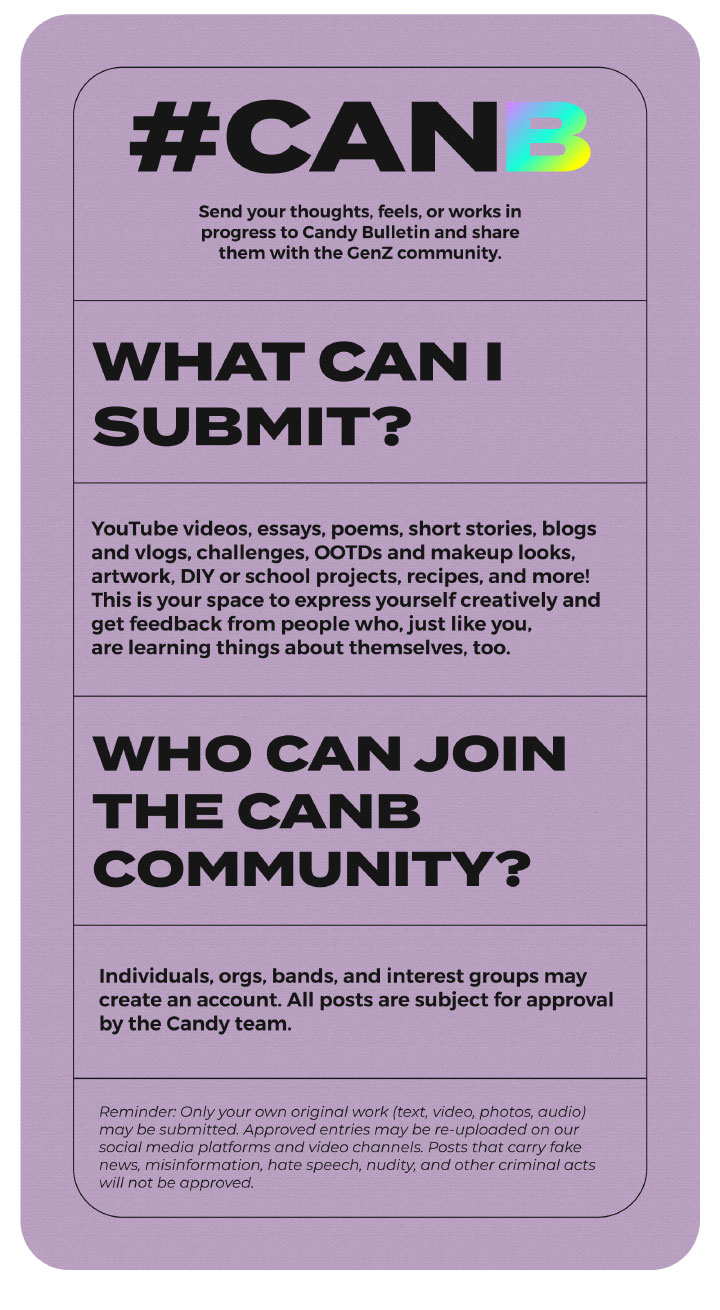 VIEW MORE
Loading Comments

Hide comments
From The Candy Bulletin Community