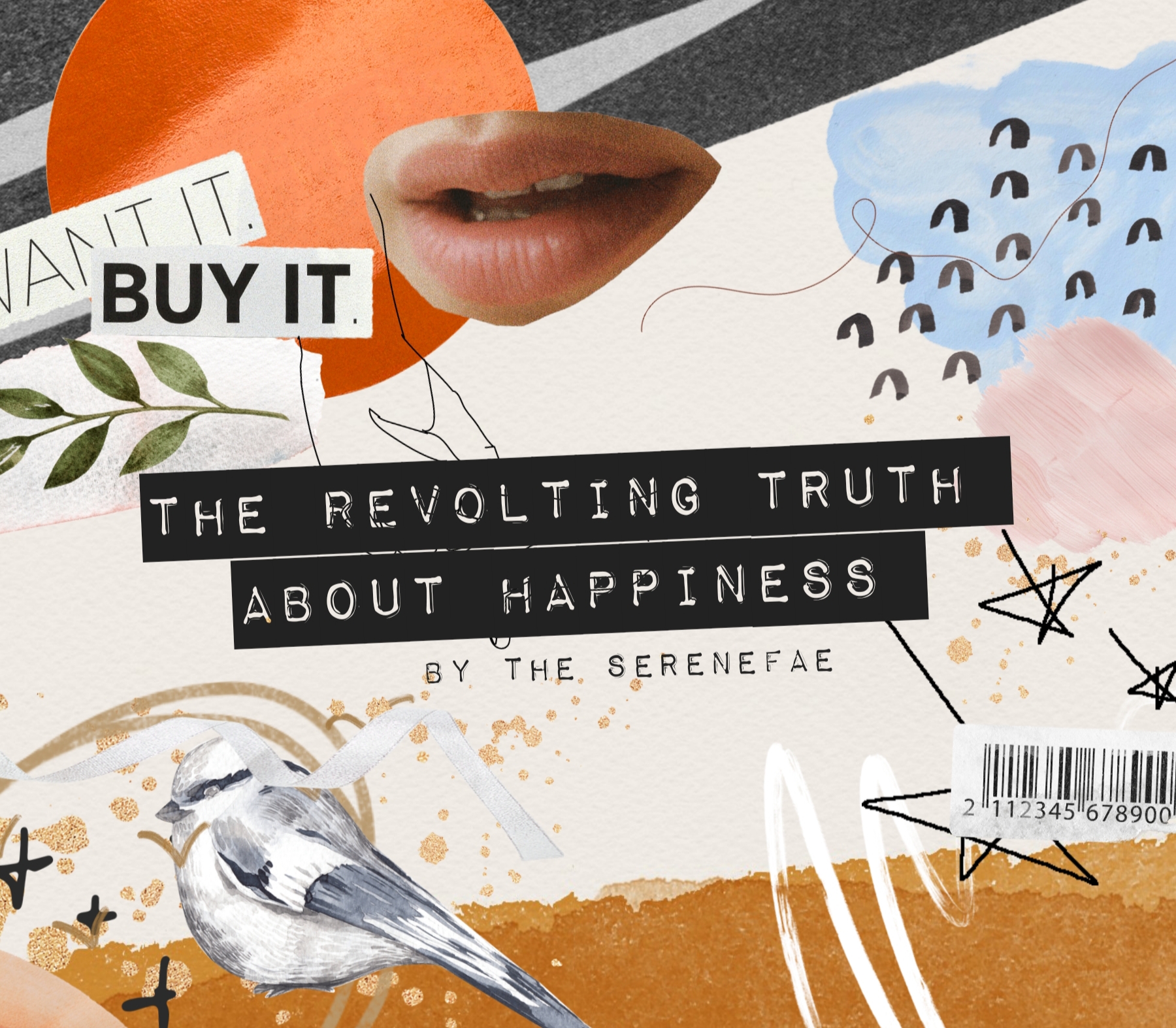 "The paradoxical idea of attaining a happier life and how to withstand these beliefs."
The Revolting Truth About Happiness by Theserenefae
If people ask you about your vision of a happier life we automatically envision ourselves having more money, true love, a better job, Instagram-worthy vacations, etc. But let me break this to you this, According to Dr. Laurie Santos, Professor of Psychology at Yale University and the voice behind The Happiness Lab podcast, "Most of the goals we think would make us happy do not really make us happy." And why is that? Simple, being happy is all in our minds. The human mind ploys us with these lenses on how we envision ourselves and our lives to be happy. The perception of "having" or "gaining" is the exact opposite of what will truly make our lives better. So how can we really be "happy"?
• Seek happiness inside you. This is a quintessential reason for our vision of happiness: misconceptions about having a lot of money would make me happy; owning this and that would make me happy; entering a relationship would make me happy. This is not the case, if you want to be truly happy with your relationship, you have to be already happy on your own. If you want satisfaction from others, you have to be satisfied with yourself. And so on.
• Fill that hole righteously We all have that tiny hole inside our hearts, tampering it with temporary band-aids. Fill this hole with purpose. Have you ever heard about The Three "M's"— Master, Mission, and Mate? Define who will be your Master, is it God? If that's so, your Mission could be following his words and will. Mate would be the last for they will be the best companion to fulfill your mission. Now hear me out, it is important to do this accordingly. We often times jumble it or invert it which can lead to failures.
• Give gifts to others. The wonderful grace in giving. There's nothing like the rush of pure joy when you get a chance to give. However, this may not be something that we're used to. But apparently, openhandedness is our soul's true shape. As Eugene Peterson put it, "Giving is what we do best. It is the air into which we were born." This doesn't necessarily mean we have to give away our stuff but we can also present love, kindness, gratefulness, etc. in our own simplest ways to anyone such as giving time, encouragement, helping hand, or even forgiveness. Try giving and you'll receive inconceivable gifts in return.
• Savor moments. Savoring deeply intensifies our positive emotions while doing something that we love the most by simply stepping outside of the experience to review and appreciate the moment. You can practice this by having a delicious meal, reading a good book, or any activity that you enjoy and love. It can also be enhanced by sharing these experiences with others, appreciating such amazing moments, or staying present the entire time.
• Choose to Love Deeper Today's society relentlessly pressures all of us to have this "perfect" lifestyle such as pursuing careers that drain you, finding value through virtual world and purchases, letting achievements become your whole identity, and yet after all that you still feel empty and failure inside. Consumption is just skin deep—a shallow perception of happiness. Deep life brings the best out of us and others. It is about nourishing what you already have, focusing on the relationships than material wealth, becoming vulnerable at times, and being self-aware.
• Understand that Sufferings and Pain are part of Human Being. Always remember that loneliness and sufferings are inevitable. That is completely how life goes. You may be happy for a moment or a month but sooner or later great tribulation will start to kick in. Combat despair with graciousness. Count all the blessings that you have (and will have in near future, claim it!) by writing it down on a piece of paper or typing on your phone. Viola! an instant boost for happiness. We all know the fact that this superficial happiness won't work, but why do I keep on wanting? I already have all this wisdom about how to be happy for ages, but why can't I apply it to my own life?
First, you have to understand that simply knowing doesn't change your behavior. Care to realize that all the tips that I have mentioned are all verbs? Because at the end of the day, it is all about how you choose to be happy and initiate actions towards success. Know, reflect, visualize, believe, and do something about it. All of these are Actions! This is the secret of all the happiest and most influential people in the world—actions. Furthermore, do know that some of these tips do not work instantly most of the time. It requires a lot of time, motivation, consistency, and effort. I do know it's easier said than done. Take each of them slowly, one step at a time.